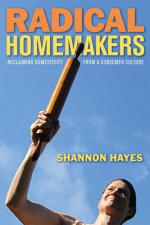 Like this book? Digg it!

Book Data
ISBN: 9780979439117
Year Added to Catalog: 2009
Book Format: Paperback
Dimensions: 6 x 9
Number of Pages: 352
Book Publisher: Left to Write Press
Release Date: March 2, 2010
Web Product ID: 505
Radical Homemakers
Reclaiming Domesticity from a Consumer Culture
"Shannon Hayes retrieves the word 'homemaker' from being a sort of quaint, yellowing doily laid in the sideboard, along with frugality and simplicity, and shows how radical, indeed, it is to take responsibility for the health of your family, community and world by raising wonderful food, wonderful kids and a wonderful ruckus in the face of injustice or greed. She and her husband had the courage to 'do the math' and see that a double-income life was not worth living (and was barely worth the money). They also had, as most radical homemakers do, the canny ability to question the standard assumptions about the good life… they could develop the skills, patience, and community connections of homemaking while keeping their minds sharp and their lives relevant. At a time when many of the pillars of our security are wobbly—the economy, oil and water and mineral supplies, climate predictability—I predict that Radical Homemakers will become a bible for those seeking to make their lives more manageable, safe, and deeply fulfilling."

—Vicki Robin, coauthor of Your Money or Your Life and host of yourmoneyoryourlife.info
Mother Nature has shown her hand. Faced with climate change, dwindling resources, and species extinctions, most Americans understand the fundamental steps necessary to solve our global crises—drive less, consume less, increase self-reliance, buy locally, eat locally, rebuild our local communities.
In essence, the great work we face requires rekindling the home fires.
Radical Homemakers is about men and women across the U.S. who focus on home and hearth as a political and ecological act, and who have centered their lives around family and community for personal fulfillment and cultural change. It explores what domesticity looks like in an era that has benefited from feminism, where domination and oppression are cast aside and where the choice to stay home is no longer equated with mind-numbing drudgery, economic insecurity, or relentless servitude.
Radical Homemakers nationwide speak about empowerment, transformation, happiness, and casting aside the pressures of a consumer culture to live in a world where money loses its power to relationships, independent thought, and creativity. If you ever considered quitting a job to plant tomatoes, read to a child, pursue creative work, can green beans and heal the planet, this is your book.

US Orders Only.
International Orders: Click here.
Additional Information
Shannon Hayes's Upcoming Events
Shannon Hayes at Weston Price Wise Traditions Conference


Weston Price Conference, Atlanta GA

November 10, 2013, 1:30 pm