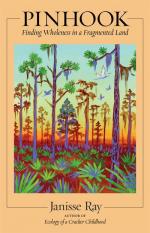 Like this book? Digg it!

Book Data
ISBN: 9781931498746
Year Added to Catalog: 2005
Book Format: Paperback
Number of Pages: 5 3/8 x 8 3/8, 168 pages
Book Publisher: Chelsea Green Publishing
Old ISBN: 1931498741
Release Date: March 25, 2005
Web Product ID: 61
Pinhook
Finding Wholeness in a Fragmented Land
Praise
Pinhook is a wonderful book, fierce and loving, defiant and joyful. It is a necessary book on the necessary topic of protecting and restoring wildlands, on helping our wild neighbors and the land to survive the death march that is the dominant culture.

—Derrick Jensen, author of The Culture of Make Believe and A Language Older Than Words
Every endangered ecosystem should have such an eloquent spokesperson.

—Bailey White, NPR Commentator and author of Sleeping at the Starlight Motel
Janisse Ray knows that her region's story and her own story are inseparable; in many ways they are the same story. To tell that story as well as she tells it…is at once to show what has gone wrong and to light the way ahead.

—Wendell Berry
Janisse Ray is a role model for countless future rural writers to come.

—Wes Jackson, Co-founder of The Land Institute
Janisse Ray is a strong and imaginative writer.

—Peter Matthiessen, author of At Play in the Fields of the Lord
What impresses me most about this astonishing book [Ecology of a Cracker Childhood] is the seamless interweaving of personal memoir and natural history.

—Jim Kilgo, author of Deep Enough for Ivorybills
Plato said that love is the desire and pursuit of wholeness, and the desire and pursuit of wholeness, wholeheartedly conducted, is Janisse Ray's great theme. Her vision of wholeness is external and internal, environmental and spiritual. The story of Pinhook Swamp is a rare one—not of further losses and further fragmentation, but of significant gains—a partial reconstituting of the teeming, magnificent pocosin and savannah country of northern Florida. Her prose commends and embodies the ardor, shrewdness, and courage that have fed the environmental movement from the first. And it always aims back at what we have never known, an uncompromised world.

—Franklin Burroughs, author of The River Home: A Return to the Carolina Low Country
Janisse Ray is a profoundly energized environmental activist and writer. Pinhook is an ardent plea on behalf of wildness as an utterly necessary part of life if we hope to live healed and at one with the complexities of what is natural. Read it, get outdoors, and get involved.

—William Kittredge, author of Hole in the Sky

US Orders Only.
International Orders: Click here.
Additional Information
Janisse Ray's Upcoming Events
Janisse Ray at Spokane Community College


, Spokane WA

April 24, 2014, 12:00 am

Janisse Ray at the Chicago Botanic Garden


1000 Lake Cook Rd , Glencoe IL

May 2, 2014, 9:00 am

Janisse Ray at Severson Dells Nature Center


8786 Montague Rd, Rockford IL

May 3, 2014, 7:00 pm

Janisse Ray at Severson Dells Nature Center


, Winnebago IL

May 4, 2014, 12:00 am

Janisse Ray at LaGrange College Commencement Address


, LaGrange GA

May 17, 2014, 8:00 am