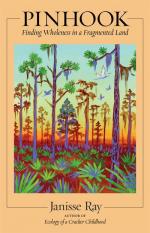 Like this book? Digg it!

Book Data
ISBN: 9781931498746
Year Added to Catalog: 2005
Book Format: Paperback
Number of Pages: 5 3/8 x 8 3/8, 168 pages
Book Publisher: Chelsea Green Publishing
Old ISBN: 1931498741
Release Date: March 25, 2005
Web Product ID: 61
Pinhook
Finding Wholeness in a Fragmented Land
Upcoming Author Events
SHEPHERDSTOWN, WV

June 21, 2015, 12:00 pmJanisse Ray at Climate and Conservation Congress

698 Conservation Way , Shepherdstown WV 25443-4024

Janisse will be at this year's Climate and Conservation Conference at the National Conservation Training Center. Cost for 8th to 11th grade students to attend is $850 before April 1st, and $950 before May 1st. The conference will run from June 21st to June 27th.

REIDSVILLE, GA

August 20, 2015, 12:00 pm

Janisse Ray at Tattnall County Library

129 Tattnall St., Reidsville GA 30453

On August 20th, Janisse Ray will join the Shade Tree Readers Book Club for an event at Tattnall County Library in Reidsville, GA.

MADISONVILLE , TN

September 14, 2015, 12:00 pm

Janisse Ray at Hiwassee College

225 Hiwassee College Dr. , Madisonville TN 37354

Janisse Ray will speak at Hiwassee College in Madisonville, TN on September 14, 2015.

REIDSVILLE, GA

October 9, 2015, 12:00 pm

Janisse Ray at Forest and Field Writing Workshop

895 Catherine T. Sanders Road, Reidsville GA 30453

Join Janisse Ray for a long weekend workshop at Red Earth Farm in Reidsville, Georgia from October 9-11. Here's a chance to write and study writing on a beautiful and authentic farm. Days begin with a country breakfast and proceed into classes on literary nonfiction, metaphor, scenes, and publishing. Includes field trips and all food. Cost to attend ranges with a sliding scale of $275-350.

AUBURN , AL

October 16, 2015, 12:00 pmJanisse Ray at Auburn Writers Conference

241 S College St. , Auburn AL 36830

On October 16th and 17th, Janisse Ray will be at the Auburn Writer's Conference at the Auburn University Hotel and Conference Center in Alabama. This year's conference will focus on Literary Harvests: Creativity and Sustainability.

Online for US Orders Only
International orders can be placed by phone (802-295-6300) or email
Additional Information
Janisse Ray's Upcoming Events
Janisse Ray at Climate and Conservation Congress


698 Conservation Way , Shepherdstown WV 25443-4024

June 21, 2015, 12:00 pm

Janisse Ray at Tattnall County Library


129 Tattnall St., Reidsville GA 30453

August 20, 2015, 12:00 pm

Janisse Ray at Hiwassee College


225 Hiwassee College Dr. , Madisonville TN 37354

September 14, 2015, 12:00 pm

Janisse Ray at Forest and Field Writing Workshop


895 Catherine T. Sanders Road, Reidsville GA 30453

October 9, 2015, 12:00 pm

Janisse Ray at Auburn Writers Conference


241 S College St. , Auburn AL 36830

October 16, 2015, 12:00 pm