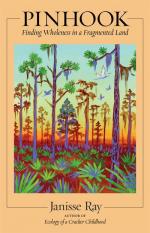 Like this book? Digg it!

Book Data
ISBN: 9781931498746
Year Added to Catalog: 2005
Book Format: Paperback
Number of Pages: 5 3/8 x 8 3/8, 168 pages
Book Publisher: Chelsea Green Publishing
Old ISBN: 1931498741
Release Date: March 25, 2005
Web Product ID: 61
Pinhook
Finding Wholeness in a Fragmented Land
Janisse Ray knows that her region's story and her own story are inseparable; in many ways they are the same story. To tell that story as well as she tells it…is at once to show what has gone wrong and to light the way ahead.

—Wendell Berry
Janisse Ray, award-winning author of Ecology of a Cracker Childhood and Wild Card Quilt, writes an evocative paean to wildness and wilderness restoration with an extraordinary journey into southern Georgia's Pinhook Swamp.
Pinhook Swamp acts as a vital watershed and wildlife corridor, a link between the great southern wildernesses of Okefenokee Swamp and Osceola National Forest. Together Okefenokee, Osceola, and Pinhook form one of the largest expanse of protected wild land east of the Mississippi River. This is one of America's last truly wild places, and Pinhook takes us into its heart.
Ray comes to know Pinhook intimately as she joins the fight to protect it, spending the night in the swamp, tasting honey made from its flowers, tracking wildlife, and talking to others about their relationship with the swamp. Ray sees Pinhook through the eyes of the people who live there--naturalists, beekeepers, homesteaders, hunters, and locals at the country store. In lyrical, down-home prose, she draws together the swamp's need for restoration and the human desire for wholeness and wildness in our own lives and landscapes.

Online for US Orders Only
International orders can be placed by phone (802-295-6300) or email
Additional Information
Janisse Ray's Upcoming Events
Janisse Ray at The Parker Ranch


The Parker Ranch, 95 Parker Lane, Clayton GA 30525

June 12, 2015, 10:00 am

Janisse Ray at Climate and Conservation Congress


698 Conservation Way , Shepherdstown WV 25443-4024

June 21, 2015, 12:00 pm

Janisse Ray at Tattnall County Library


129 Tattnall St., Reidsville GA 30453

August 20, 2015, 12:00 pm

Janisse Ray at Hiwassee College


225 Hiwassee College Dr. , Madisonville TN 37354

September 14, 2015, 12:00 pm

Janisse Ray at Forest and Field Writing Workshop


895 Catherine T. Sanders Road, Reidsville GA 30453

October 9, 2015, 12:00 pm