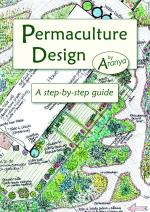 Like this book? Digg it!

Book Data
ISBN: 9781856230919
Year Added to Catalog: 2012
Book Format: Paperback
Book Art: Full-Color Throughout
Dimensions: 5 3/4 x 8 1/4
Number of Pages: 208
Book Publisher: Permanent Publications
Release Date: August 6, 2012
Web Product ID: 703
Also in Gardening & Agriculture
Permaculture Design
A Step-by-Step Guide
Foreword by Patrick Whitefield
For most people, taking the permaculture design course is a major life event. It opens the door on a new way of looking at the world, a new way of being in the world. It affects you on so many levels that, however well you took notes, inevitably some of what you learnt passes you by. That's why Aranya wrote this book: so that people could go away from the design courses he teaches and have a reference to the design methods he'd taught them. In effect it's a toolbox of permaculture design methods. Some people keep their tools in a higgldy-piggledy pile, chipped, blunt and uncared for. Others keep them in perfect order in a neat box, each one in its place, oiled, sharpened and ready to go. Aranya is one of the latter and this book reflects the keen clarity of his mind. Open its pages and you can put your finger right on the design tool you need, from triangulation to the enticingly-named desire lines. It's all there, described and illustrated, clearly and comprehensively.

—Patrick Whitefield, Author of "The Earth Care Manual," and "How to Make a Forest Garden"
Are you excited about permaculture but unclear how to put it into practice for yourself?
In this unique, full color guide, experienced permaculture teacher Aranya leads you through the design process from beginning to end, using clear explanations, flowcharts and diagrams. It is based on course worksheets which have been designed, refined and tested on students over time. Linking theory to practice, he places the ethics, principles, philosophies, tools and techniques directly into the context of the process itself. While written for anyone with a basic grasp of permaculture, this book also has plenty to offer the more experienced designer.
This guide covers:
Systems and patterns
Working as part of a design team
Land and non-land based design
Design frameworks
Site surveying and map making
Interviewing clients
Working with large client groups
Identifying functions
Choosing systems and elements
Placement and integration
Creating a design proposal
Project management
Presenting your ideas to clients
and much more....
A great reference for anyone who has done, or is thinking of doing, any kind of permaculture course.
Aranya presents his book at the London Permaculture Festival