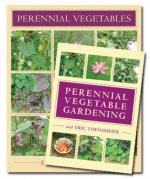 Like this book? Digg it!

Book Data
ISBN: 9781603584951
Year Added to Catalog: 2012
Book Format: Paperback + DVD
Book Art: Full-Color Throughout
Dimensions: 8 x 10, 143 Minutes
Number of Pages: 256
Book Publisher: Chelsea Green
Release Date: December 1, 2012
Web Product ID: 737
Reviews, Interviews, & Articles
Reviews
Midwest Book Review: Perennial Vegetable Gardening with Eric Toensmeier is an instructional DVD that works well either stand-alone or as a companion to Toensmeier's book "Perennial Vegetables" (9781931498401, $35.00). A lengthy program teaches gardeners about more than 100 species of lesser-known edible perennial plants, including ground cherry, ramps, air potatoes, and much more. Tending, harvesting, and cooking with perennial vegetables are all covered, and viewers are also invited to tour Toensmeier's beautiful Massachusetts garden! A searchable database of perennial vegetables rounds out this wonderful how-to DVD. Perennial Vegetable Gardening with Eric Toensmeier will bring joy to active gardening enthusiasts and "armchair gardeners" alike, and is highly recommended for both private and public library gardening DVD collections. 143 min.
Booklist Online: Plant expert Toensmeier is the enthusiastic instructor of this series of vegetable-gardening workshops. Toensmeier begins in his home state of Massachusetts, where he demonstrates how some vegetables can survive the winter. He tours his garden, pointing out plants (names captioned onscreen), describing planting and harvesting techniques, and sharing cooking tips. In Mexico, Toensmeier showcases plants native to the upper tropics, and in Florida, he fields questions from workshop participants about plants native to the lower tropics. In the final segment, the gardening expert returns to Massachusetts to talk about how to control plant runners; organically fight pests; and experiment with bamboo, air potatoes, and ground cherries. Toensmeier emphasizes the nutritional value, versatility, and hardiness of the plants. Jam-packed with recommendations and tips, this nicely shot program encourages gardeners and cooks to be adventurous with vegetable choices. — Candace Smith
Interviews
Articles
Other Books by Eric Toensmeier

US Orders Only.
International Orders: Click here.
Additional Information
Eric Toensmeier's Upcoming Events
Eric Toensmeier at Food Forest Farm


, Holyoke MA

April 26, 2014, 12:00 pm

Eric Toensmeier at the Omega Institute


150 Lake Dr, Rhinebeck NY

May 16, 2014, 12:00 pm

Eric Toensmeier at Ferme Au Petit Boisé


Ferme Au Petit Boisé, Frelighsburg Quebec, Canada

May 23, 2014, 12:00 pm

Eric Toensmeier at Financial Permaculture & Local Business Summit


, Miami FL

May 31, 2014, 12:00 pm

Eric Toensmeier at Vermont Edible Landscapes


The Teal Farm, Huntington VT

June 28, 2014, 8:00 am