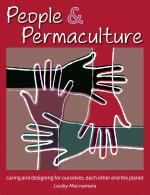 Like this book? Digg it!

Book Data
ISBN: 9781856230872
Year Added to Catalog: 2012
Book Format: Paperback
Book Art: B&W Illustrations
Dimensions: 9-1/2 x 7-1/2
Number of Pages: 304
Book Publisher: Permanent Publications
Release Date: August 6, 2012
Web Product ID: 702
People and Permaculture
Caring & Designing for Ourselves, Each Other & The Planet
We all have our dark moments of the soul, when we go deep into our individual beings and ask hard questions and sometimes get unwelcome answers. Are humans a plague on the planet? Can one person, when that one person is me, really make a difference? Can the juggernaut of consumer society be turned? Why should we single out our fellow humans for a special degree of care over, say, salmon, or whales? The answer is in this book. We take care of people because people matter, and because that is our nature as creatures who care. What we care about matters to the fate of the world, now as never before. If permaculture as a design tool is about making connections, this book is about how we reconnect ourselves – to each other, to our inner selves, to our highest aspirations and, finally, to the cycles of life, of which we are just a small, but incredibly important, part.

—Albert Bates, Author and educator, The Farm Ecovillage Training Center
This is the first book to explore how to use permaculture design and principles for people - to restore personal, social and planetary well-being.
People & Permaculture widens the definition of permaculture from being mainly about land-based systems to include our own lives,relationships and society. This book provides a framework to help each of us improve our ability to care for ourselves, our friends, families and for the Earth. It is also a clear guide for those who may be new to permaculture, who may not even have a garden, but who wish to be involved in making changes to their lives and living more creative, low carbon lives. People & Permaculture transforms the context of permaculture making it relevant to everyone.
Part 1 - provides a detailed introduction to permaculture design and principles as applied to people.
Part 2 - looks at the tools and techniques we can use in our own lives; how we can transform our internal landscape, enhance our well-being and be at our best.
Part 3 - investigates ways of creating harmony in our relationships and groups, through our communication and decision making.
Part 4 – explores a wider vision for our social systems, in particular health and education.
Part 5 - moves on to explore how to expand our feelings of connection across the globe.
Part 6 - focuses on how we can manifest a positive future with the use of a new design framework specifically created for people-based designs.
Including over 50 practical activities, People & Permaculture empowers readers with tried and tested tools to initiate positive change in their lives. It is a hands-on yet powerful guide to creating a sustainable world.