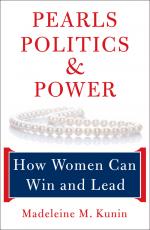 Like this book? Digg it!

Book Data
ISBN: 9781933392929
Year Added to Catalog: 2008
Book Format: Paperback
Dimensions: 6 x 9
Number of Pages: 256
Book Publisher: Chelsea Green Publishing
Old ISBN: 1933392924
Release Date: April 30, 2008
Web Product ID: 347
Pearls, Politics, and Power
How Women Can Win and Lead
Questions for Book Discussion
Have you ever thought of running for public office on the local, state or federal level?
If the answer is yes, discuss which office and why.
If the answer is no, why?
Have you volunteered in a political campaign? What did you like about the experience and what didn't you like?
Have you worked as a volunteer in other organizations? Do you think that experience would help you run for office or to work on some one else's campaign or for a cause?
Do you know of someone who might be a good candidate for office, on the school board, your local governing board or any other office? Would you ask her to run?
What kind of help could you provide to a candidate: money, driving, office work, organizing, casseroles?
What are the controversial issues in your community and state?
Would you be willing to get involved by attending a meeting, speaking up, writing a letter to a newspaper, writing, e-mailing or calling your elected officials?
Who are the women leaders you admire and why?
How do you define leadership?
Do you think women leaders are different from men? If so, how?

US Orders Only.
International Orders: Click here.
Additional Information
Madeleine M. Kunin's Upcoming Events
Madeleine Kunin at the Greater Burlington Women's Forum Luncheon


Burlington City Hall, 149 Church St., Burlington VT

March 11, 2014, 12:00 pm

Madeleine Kunin at the Pierson Library


5376 Shelburne Rd, Shelburne VT

March 18, 2014, 6:30 pm

Madeleine Kunin at Champlain College


163 S Willard St, Burlington VT

March 26, 2014, 6:30 pm

Madeleine Kunin at Kurn Hattin Homes for Children


Kurn Hattin Rd, Brattleboro VT

April 2, 2014, 5:30 pm

Madeleine Kunin at the University of Vermont


590 Main St, Burlington VT

April 21, 2014, 5:30 pm