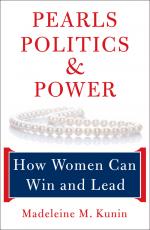 Like this book? Digg it!

Book Data
ISBN: 9781933392929
Year Added to Catalog: 2008
Book Format: Paperback
Dimensions: 6 x 9
Number of Pages: 256
Book Publisher: Chelsea Green Publishing
Old ISBN: 1933392924
Release Date: April 30, 2008
Web Product ID: 347
Pearls, Politics, and Power
How Women Can Win and Lead
"Every page is indelibly stamped with one word: impact. Governor Kunin clearly and compellingly captures the deep and lasting impact women have had and can have on American politics."

—Ilana Goldman, President of the Women's Campaign Forum
Pearls, Politics, and Power is a call to action for new political engagement and leadership from the women of America. Informed by conversations with elected women leaders from all levels, former three-term Vermont Governor and Ambassador to Switzerland Madeleine M. Kunin asks: What difference do women make? What is the worst part of politics, and what is the best part? What inspired these women to run, and how did they prepare themselves for public life? How did they raise money, protect their families' privacy, deal with criticism and attack ads, and work with the good old boys?
Kunin's core message is that America needs an infusion of new leadership to better address the major problems of our time. To see how women can achieve that goal, she combines her personal experience in politics; the lessons of past women's movements; the stories of young women today who have new ideas about their role in society; and interviews with a wide range of women in positions of power, looking for clues to their leadership, as well as the effects of gender stereotyping. She interviews Senator Hillary Rodham Clinton, analyzes her campaign, and addresses the question: "Is the country ready?" Other interviewees include U.S. Representatives Loretta Sanchez, Linda Sanchez, Deborah Pryce, and Tammy Baldwin, and U.S. Senators Susan Collins, Amy Klobuchar, and Carol Moseley Braun, and Governors Kathleen Sibelius and Janet Napolitano.
"Here's the book we've been waiting for—an insider's view of the role of women in politics by one of America's most distinguished public servants. Governor, federal executive, ambassador, Madeleine Kunin has seen it all. And her keen eye and her deep understanding of the challenge of gender in wielding power has produced a wonderfully insightful book that should be read by every women, and man, who wants to lead."
—Robert B. Reich, Former U.S. Secretary of Labor, Professor of Public Policy, University of California at Berkeley
The next generation of women will be inspired to lead by seeing women like Nancy Pelosi wielding the gavel, and seeing themselves reflected in the portraits in statehouses, courthouses, corporate and university boardrooms, and the White House. Pearls, Politics, and Power will help ensure that this inspiration is not soured or deflected, but channeled into successful candidacies by America's leaders of tomorrow.
What will it take for women to assume their rightful places in the political corridors of power?

US Orders Only.
International Orders: Click here.
Additional Information
Madeleine M. Kunin's Upcoming Events
Madeleine Kunin at the Greater Burlington Women's Forum Luncheon


Burlington City Hall, 149 Church St., Burlington VT

March 11, 2014, 12:00 pm

Madeleine Kunin at the Pierson Library


5376 Shelburne Rd, Shelburne VT

March 18, 2014, 6:30 pm

Madeleine Kunin at Champlain College


163 S Willard St, Burlington VT

March 26, 2014, 6:30 pm

Madeleine Kunin at Kurn Hattin Homes for Children


Kurn Hattin Rd, Brattleboro VT

April 2, 2014, 5:30 pm

Madeleine Kunin at the University of Vermont


590 Main St, Burlington VT

April 21, 2014, 5:30 pm