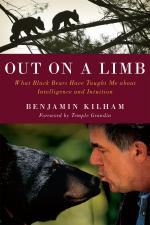 Like this book? Digg it!

Book Data
ISBN: 9781603583909
Year Added to Catalog: 2013
Book Format: Hardcover
Book Art: 16-page color insert
Dimensions: 6 x 9
Number of Pages: 244
Book Publisher: Chelsea Green
Release Date: October 20, 2013
Web Product ID: 761
Also in Nature & Environment
Out on a Limb
What Black Bears Have Taught Me About Intelligence and Intuition
Foreword by Temple Grandin
"No one knows black bears like Ben Kilham does. During the past decade alone he has raised and rehabilitated to the wild more than 100 orphaned cubs. The social code of the bears, as so delightfully described in Out on a Limb, includes cooperation, imitation, fairness, punishment for infraction, reciprocity, and other traits of this solitary yet highly social species. Human parallels are drawn, too. The charm and core of the book lie in its anecdotes and unique insights, especially of the female Squirty with whom Ben has had a friendship for more than seventeen years. Read this fascinating book and see the bear's world with new eyes."

—George Schaller, author of The Last Panda; science director, Wildlife Conservation Society
In Out on a Limb, Ben Kilham invites us into the world he has come to know best: the world of black bears.

For decades, Kilham has studied wild black bears in a vast tract of Northern New Hampshire woodlands. At times, he has also taken in orphaned infants—feeding them, walking them through the forest for months to help them decipher their natural world, and eventually reintroducing them back into the wild. Once free, the orphaned bears still regard him as their mother. And one of these bears, now a 17-year-old female, has given him extraordinary access to her daily life, opening a rare window into how she and the wild bears she lives among carry out their daily lives, raise their young, and communicate.

Witnessing this world has led to some remarkable discoveries. For years, scientists have considered black bears to be mostly solitary. Kilham's observations, though, reveal the extraordinary interactions wild bears have with each other. They form friendships and alliances; abide by a code of conduct that keeps their world orderly; and when their own food supplies are ample, they even help out other bears in need.

Could these cooperative behaviors, he asks, mimic behavior that existed in the animal that became human? In watching bears, do we see our earliest forms of communications unfold?

Kilham's dyslexia once barred him from getting an advanced academic degree, securing funding for his research, and publishing his observations in the scientific literature. After being shunned by the traditional scientific community, though, Kilham's unique findings now interest bear researchers worldwide. His techniques even aid scientists working with pandas in China and bears in Russia.

Moreover, the observation skills that fueled Kilham's exceptional work turned out to be born of his dyslexia. His ability to think in pictures and decipher systems makes him a unique interpreter of the bear's world.

Out on a Limb delivers Kilham's fascinating glimpse at the inner world of bears, and also makes a passionate case for science, and education in general, to open its doors to different ways of learning and researching—doors that could lead to far broader realms of discovery.

Kilham and his work have been featured in five internationally televised documentaries. In addition to being on over forty nationally broadcast radio shows including National Public Radio, he has appeared on The Today Show, Good Morning America, ABC Nightly News, The David Letterman Show, and more.

US Orders Only.
International Orders: Click here.
Additional Information
Benjamin Kilham's Upcoming Events
Ben Kilham at the Springfield Town Library


43 Main St, Springfield VT

April 24, 2014, 6:30 pm

Ben Kilham at the Fitzwilliam Town Library


11 Templeton Turnpike, Fitzwilliam NH

April 28, 2014, 7:00 pm

Ben Kilham at the Wilmot Public Library


11 N Wilmot Rd, Wilmot NH

May 1, 2014, 7:00 pm

Ben Kilham at the Vermont Institute of Natural Science


6565 Woodstock Road, Quechee VT

June 19, 2014, 7:00 pm

Ben Kilham at Lake Sunapee Protective Association Center


63 Main St, Sunapee NH

July 9, 2014, 12:00 pm