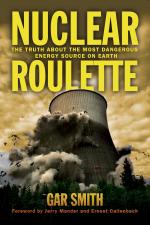 Like this book? Digg it!

Book Data
ISBN: 9781603584777
Year Added to Catalog: 2012
Book Format: Hardcover
Dimensions: 6 x 9
Number of Pages: 320
Book Publisher: Chelsea Green
Release Date: October 11, 2012
Web Product ID: 714
Also in Nature & Environment
Nuclear Roulette
The Truth about the Most Dangerous Energy Source on Earth
Reviews, Interviews, & Articles
Choice Review: Journalist Smith (editor emer., Earth Island Journal) has responded to the Fukushima disaster with an avalanche of condemnation of everything nuclear with zeal and sometimes enthusiastic overkill. Nuclear power advocates will be challenged and opponents will be encouraged by the documented hazards related to nuclear weapons and nuclear power plants. Many major oversights and bad decisions have contributed to health concerns and loss of life. Smith vividly demonstrates that nuclear power plants require NASA-type engineering and well-trained operators. He discusses how the military's use of uranium-235 left a legacy of high-level nuclear waste and a proliferation of plutonium for weapons. He also addresses the problems of nuclear waste storage … . Summing Up: Recommended. With reservations.
Bookwatch Review: NUCLEAR ROULETTE: THE TRUTH ABOUT THE MOST DANGEROUS ENERGY SOURCE ON EARTH comes from an award-winning journalist who critiques the idea that a 'nuclear renaissance' is underway. It methodically dissects core arguments behind this 'renaissance', exposes many nearly daily system failures that plague US nuclear reactors, and outlines circumstances surrounding five of the country's worst reactors. The result is a powerful survey of energy solutions, conservation, and political and social issues. Any interested in energy issues in general and nuclear promises in particular will find this a hard-hitting guide.
ForeWord Review: German Chancellor Angela Merkel, once a quantum chemist studying subatomic reactions, was, according to author Gar Smith, "an outspoken advocate for a nuclear renaissance." But, on March 11, 2011, Merkel, like most of the world, watched the terrifying videos coming out of Japan. Her words to an aide as a hydrogen explosion ripped apart the containment building surrounding the Fukushima-Daiichi Unit 1 nuclear reactor were: "It's over." Within weeks, Merkel had unveiled a plan to speed up the decommissioning process of all seventeen German reactors.

Her vision for a "green Germany" is leading the nation to invest in local green-tech energy. Corporate control of power is being replaced by citizen ownership, and Germany's stand for clean, safe, renewable energy solutions is attracting worldwide attention.

Smith, an award-winning investigative journalist, former editor of Earth Island Journal, and cofounder of Environmentalists Against War, reveals why the United States insists on energy policies that put human life, and the very habitability of the planet, in peril even though it has been undeniably proven that nuclear energy is costly, cumbersome, and dangerous. In writing that is pointed, passionate, and backed by thorough research, Smith unveils the nuclear industry's "business before safety" attitude and its appalling record of potentially catastrophic accidents and "near-misses," as well as the cover-ups, intimidations, and threats that have been used to keep the public in the dark about the real risks involved in what is being marketed as a "nuclear renaissance" in this country. Taking on industry assertions that nuclear energy makes the nation stronger, Smith points out that, rather than serving as a deterrent, the presence of nuclear reactors actually makes nations that depend on the technology extremely vulnerable to devastating terrorist attacks and to the massive destruction that nature (hurricanes, tornadoes, earthquakes, tsunamis, and wildfires, to name a few) and human error can unleash.

Taking the nuclear industry to task for declaring that its aging and deteriorating reactors (some built with the same design as those of Fukushima) are safe, Smith provides ample evidence that they are not: They have been shown to leak and discharge radioactive and otherwise toxic materials into the air and water; cancer rates in the populations living in proximity to nuclear plants are skyrocketing (the nuclear industry, Smith says, is aware that there is no safe level of exposure to ionizing radiation); inspections are lax or omitted; and America's nuclear reactors are built on known geological fault lines and in highly populated areas that are prone to severe weather events and flooding. In spite of all this, the Nuclear Regulating Commission makes sure that operating extensions are granted to nuclear plants with poor safety records and histories of accidents.

Smith makes it obvious that nuclear energy is a "doomed technology," and advocates for an immediate turn to safe, renewable energy; he also offers some hope that such a redirection is possible, including this: "On June 28, 2011," he wrote, "the US Energy Information Administration announced that—for the first time—renewable energy had trumped nuclear as a major source of power." Smith's book, with its chilling inventory of nuclear reactor accidents and its thirty-five pages of references, is essential reading for legislators, voters, students, environmentalists—in fact, anyone concerned for the future of life on this planet.

Kristine Morris
December 3, 2012
Booklist Review: Little noticed by the media following the tsunami-triggered nuclear disaster in Fukushima, Japan, in 2011 was that country's ensuing swift decision to phase out its nuclear-energy program by 2030. In this thorough, insightful dissection of nuclear power's weaknesses, Earth Island Journal editor Smith argues that every other nation in the world should follow Japan's example. Many of the flaws in reactor design and safety will already be familiar to anyone who paid close attention to the Three Mile Island and Chernobyl catastrophes. Reactors are often built far too close to population centers, for instance, and measures to contain radiation leakage during meltdowns are much less reliable than claimed. Other nuclear-power liabilities are less obvious, such as the long half-life of uranium waste, and exorbitant costs of maintenance and repairs. Smith's thorough dismantling of the pro-nuclear lobby's endorsements will not endear him to the many interests aligned with the Nuclear Regulatory Commission, but readers will now have a comprehensive and invaluable guide to nuclear power's shortcomings, crucial information as new energy policies are formulated and debated.
Kirkus Reviews: An impassioned case against the use of nuclear power.
In his debut, Earth Island Journal editor emeritus Smith gathers together several arguments against nuclear power into a concise yet detailed package. He forcefully asserts that nuclear power plants are not only unsafe—with severe accidents at nuclear plants in the United States, Russia and Japan serving to "illustrate the ultimate insanity of the nuclear option"—but also polluting, costly and inefficient. He gives several examples of nuclear-plant and government officials downplaying potentially serious risks to the public, and, in a compelling chapter, enumerates the failings of what he calls "five of the worst U.S. reactors." He examines a host of health and safety issues at plants all over the country, including the much-criticized Indian Point plant north of New York City. Smith concludes with several recommendations for alternatives, advocating for heightened energy efficiency and renewable energy sources such as wind, solar and geothermal power. The author comes at his subject from an environmentalist point of view, with an explicit desire to "pull the plug on this dangerous technology," and some readers may be skeptical of his concluding vision of a "sustainable compassion economy." Many of the arguments will also be familiar to veterans of the nuclear-power debate. Nonetheless, Smith lays out an impressively researched narrative, drawing on facts from a wide range of sources, and makes a strong case that will be hard for even nuclear-power advocates to dismiss out of hand. For casual readers, the book presents a well-written introduction to the anti-nuclear-power position.
A penetrating argument against today's nuclear age.
Nuclear Roulette Reviews (International Forum on Globalization Edition)