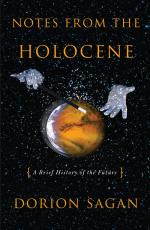 Like this book? Digg it!

Book Data
ISBN: 9781933392325
Year Added to Catalog: 2007
Book Format: Paperback
Dimensions: 5 1/2 x 8 1/2
Number of Pages: 224 pages
Book Publisher: Chelsea Green Publishing
Release Date: September 15, 2007
Web Product ID: 398
Notes from the Holocene
A Brief History of the Future
Why does life exist? Is the Earth an organism? Are we part of its exobrain? Can we save it from global warming? In seeking answers to such difficult questions, Dorion Sagan leads his readers down canyons of cosmic time and space by luring them onward with a paper trail of visual metaphors and social references that range from prehistory to pop culture.

Sure-footed and encyclopedic in its scientific and cultural scope, this text coaxes the reader to savor the more exotic fruits of molecular, biological, and cosmological research, richly garnished with philosophy both ancient and modern.

By canvassing these deeper aspects of cosmological existence in his characteristic stream-of-consciousness style, the author offers an intimate perspective that is spectacularly different from the majestic Cosmos presented by his illustrious father.

—Reg Morrison, author of The Spirit in the Gene
WARNING: This book contains wild speculations:
READ AT YOUR OWN RISK*
*This statement has not been verified by the FDA, MDA, USDA, APA, DEA, GSA, CIA, NSA, AA, AAA, or AAAA
"Notes from the Holocene is a pop culture trek of reality reminiscent of The Hitchhiker's Guide to the Galaxy, but rife with scientific, religious, and philosophical neurotrinkets, many original enough for scholarly pursuit.
—Jessica Whiteside, Professor of Terrestrial Paleoenvironments, Brown University
In a thought-provoking, humorous, and engaging style, Dorion Sagan combines philosophy, science, and an understanding of illusion to probe the deep questions of existence.
Operating on the precept that the universe is far weirder than we might imagine, Sagan—son of acclaimed scientists Carl Sagan and Lynn Margulis—uses his knowledge of philosophy, science, sleight-of-hand magic, and the fantastical writings of Philip K. Dick to explore some of the deepest questions we face on Earth. He provides fresh insights as to why we are here, the nature of technology, the prognosis for humanity, the living nature of our planet, and a reasoned explanation to why our universe is probably just one of an infinite number.
Sagan also provides answers to twelve pressing questions:
Why does life exist?
Why do we drink water?
Can we save the Earth from global warming?
Are human beings central and special?
Is it possible that we've arisen by pure chance?
Is the Earth an organism?
Are we part of its exo-brain?
If it is alive, can it reproduce?
Can the universe?
What does the future hold in store for us?
Does God exist? What is the nature of ultimate reality?
Notes from the Holocene is a prime example of the writing coming from a new generation of scientific writers. It will inspire readers to think for themselves while leaving them chuckling with tongue-in-cheek anecdotes—a rare combination that Sagan delivers with ease. And yes, as geneticist J.B.S. Haldane says, "the universe is not only stranger than we imagine, but stranger than we can imagine."