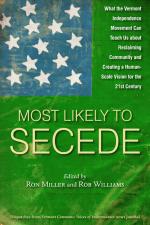 Like this book? Digg it!

Book Data
ISBN: 9781603585026
Year Added to Catalog: 2012
Book Format: Paperback
Book Art: B&W Images
Dimensions: 6 x 9
Number of Pages: 256
Book Publisher: Vermont Independence Press
Release Date: March 1, 2013
Web Product ID: 740
Most Likely to Secede
What the Vermont Independence Movement Can Teach Us about Reclaiming Community and Creating a Human Scale Vision for the 21st Century
"Madison and Jefferson would be proud of this book. Pray read it now. Secede is illumination in the age of unreason, a 21st century Common Sense, a crystal clear analysis of why size matters, and why we must create human(e) institutions to live and work within. Immensity is crushing us, whether the whopper is a multinational corporation, fast food, money center banks, the federal government, modern medicine, the military/industrial complex, the two political parties, or the media. The tyranny of concentrated power is tearing our land, culture and communities apart. If we restore autonomy on local and bioregional levels, the genius, gumption and generosity of American people can breathe and flourish again."

—Paul Hawken, author of Blessed Unrest and The Ecology of Commerce
From the annals of Vermont Commons: Voices of Independence news journal
The 21st century United States is no longer a functioning republic, but an unreformable Empire unresponsive to the needs and concerns of its own citizens. Most Likely To Secede features a collection of provocative and forward-thinking essays from 29 contributors to Vermont Commons: Voices of Independence news journal. Written by cutting-edge citizens and entrepreneurs, the essays call for economic relocalization and political independence for Vermont, and, in some cases, nonviolent secession of the state (once its own 18th century republic) from the U.S. of Empire and the peaceful dissolution of the United States as a whole. Exploring well beyond the media-manufactured boundaries of Left and Right, Most Likely To Secede advocates for a 21st century world in which collective decisions about finance, fuel, food, and culture are removed from a centralized corporate imperial United States, and returned to regional and local control. As the only state to once exist as its own republic, Vermont is uniquely poised to lead a national conversation on 2st century decentralization, and Most Likely To Secede shows us the way.