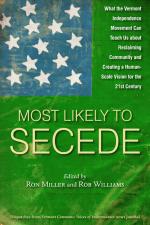 Like this book? Digg it!

Book Data
ISBN: 9781603585026
Year Added to Catalog: 2012
Book Format: Paperback
Book Art: B&W Images
Dimensions: 6 x 9
Number of Pages: 256
Book Publisher: Vermont Independence Press
Release Date: March 1, 2013
Web Product ID: 740
Also in Politics & Social Justice
Most Likely to Secede
What the Vermont Independence Movement Can Teach Us about Reclaiming Community and Creating a Human Scale Vision for the 21st Century
"Steeped in Jeffersonian decentralism, pro-democracy sentiment, and love of land, the mad farmers, sheep growers, and legal philosophers of Vermont have forged themselves into a force of truth. In Most Likely to Secede, they bring together their finest—knitting organic farming and yogurt-making with historical/economic argument for secession that goes beyond current concepts of 'Left' and 'Right.' Whether you're from Rutland—or Alaska, Scotland, Quebec, the Congo, Kashmir, or the Iroquois Nation—read this empire-breaking book. It'll get you going."

—Chellis Glendinning, Ph.D., psychotherapist , author of Off the Map: An Expedition Deep into Empire and the Global Economy
From the annals of Vermont Commons: Voices of Independence news journal
The 21st century United States is no longer a functioning republic, but an unreformable Empire unresponsive to the needs and concerns of its own citizens. Most Likely To Secede features a collection of provocative and forward-thinking essays from 29 contributors to Vermont Commons: Voices of Independence news journal. Written by cutting-edge citizens and entrepreneurs, the essays call for economic relocalization and political independence for Vermont, and, in some cases, nonviolent secession of the state (once its own 18th century republic) from the U.S. of Empire and the peaceful dissolution of the United States as a whole. Exploring well beyond the media-manufactured boundaries of Left and Right, Most Likely To Secede advocates for a 21st century world in which collective decisions about finance, fuel, food, and culture are removed from a centralized corporate imperial United States, and returned to regional and local control. As the only state to once exist as its own republic, Vermont is uniquely poised to lead a national conversation on 2st century decentralization, and Most Likely To Secede shows us the way.