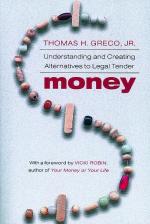 Like this book? Digg it!

Book Data
ISBN: 9781890132378
Year Added to Catalog: 2001
Book Format: Paperback
Book Art: b&w diagrams, appendices, notes, references and sources, index
Number of Pages: 6 x 9, 320 pages
Book Publisher: Chelsea Green Publishing
Old ISBN: 1890132373
Release Date: November 1, 2001
Web Product ID: 135
Money
Understanding and Creating Alternatives to Legal Tender
Associated Articles
ARGENTINA, DESPITE DEFAULT, CAN PROSPER
BY USING MONEY SUBSTITUTES

Op-ed by Thomas H. Greco, Jr.
December 31, 2001

Long before the Argentine debt crisis came to a head, a great many Argentines were feeling the pinch. Unemployment levels, even among middle-class professionals, had for several years wavered around 20%, and millions of people were seeing their standard of living crushed in the vice of declining incomes, on the one hand, and increasing costs of services due to privatization, on the other. While the central government struggled to comply with the demands of the IMF and lender banks in the first world, the periphery was developing its own coping strategies. These are reminiscent of some approaches which were used right here in the United States during the Great Depression of the 1930s.

As it was then, the problem is a failure of the money and banking system to effectively provide for the mediation of trade and the allocation of capital. While the evolutionary details of these two crises may be different, the ultimate failure in both cases is twofold: insufficient exchange media to meet the needs of internal trading, and the unavailability of adequate investment and working capital. In Argentina, credit expansion has been restricted as a strategy for preventing inflation. For the past ten years or so, official policy has been to peg the Argentine peso to the U.S. dollar. Keeping the peso on a par with the dollar has caused capital to drain away from Argentina as foreign investors keep converting their peso earnings to dollars and bringing them home. Without restrictions on currency conversion, the drain has become even more critical as capital has sought safe havens abroad.

While the central government policies have benefited international capital, they have been adverse to the welfare of ordinary citizens and lower levels of government. As in the Depression-era U.S., there has been a self-help reaction in the hinterlands and at the grassroots. While the 1930s Depression raged on, hundreds of local communities across North America issued their own currencies, called scrip, as a way of supplementing the inadequate supply of official money. In Argentina, for more than a decade, provincial governments have been financing their operations, in part, by issuing their own currencies in the form of small denomination bonds. They do this by paying their employees partly in pesos and partly in provincial bonds. So long as the amount issued remains in line with provincial tax revenues, this is an effective and non-inflationary strategy.

In addition, and perhaps more significantly, since the mid 1990s, people throughout Argentina have been organizing local trading clubs to help meet their needs. These clubs, which use their own locally-issued, interest-free, credito currencies, represent an alternative economy which operates in parallel to the peso economy. The more than 500 clubs now in operation serve over half a million families, providing basic subsistence for a large proportion of them. On a visit to South America last April, I was able to observe first-hand the vitality and excitement of several of the many daily credito trading fairs. Again, so long as these currencies are properly issued and club members honor their agreements, these local currencies provide a sound medium of exchange. The development of community-based exchange media is a world-wide movement which has been on-going for almost 20 years, but because of their dire economic necessity, it has expanded more quickly in Argentina than anywhere else. Such decentralized approaches have the inherent advantages of being more responsive to local needs and less prone to corruption.

Recognizing the economic effectiveness and political importance of the credito economy, local governments throughout Argentina have given it their support. Even the central government, last year agreed to help the proliferation of local trading clubs around the country. If the new government in Buenos Aires is wise it will continue to do so.



OPEN LETTER TO MAYOR BLOOMBERG:

5 REASONS WHY NEW YORK CITY SHOULD CONSIDER
ISSUING ITS OWN CURRENCY.

1/2/02
Dear Mr. Bloomberg:

Congratulations on your recent mayoral victory. It's clear that New York City's economic health will be your top priority as you take office. It's also clear that conventional approaches, including primarily waiting for inputs from the outside ($20 billion in Federal aid promised but $9 billion coming . . .) will not do the trick. You're going to have to start thinking outside the box.

Now is the time for New York City to consider issuing its own currency. Can you imagine an exchange medium that is issued on the basis of the capacity of local New York businesses to provide valued goods, services, and experiences? That gives local businesses an automatic advantage over outside competitors? That can provide a source of interest-free working capital for both local government and local businesses? That can give a financial boost to the "third sector" non-profit organizations and community improvement groups? And that can empower every New Yorker to be more productive and more prosperous?

All of this is explained my new book, MONEY: Understanding and Creating Alternatives to Legal Tender (Chelsea Green, 2001). In it you will find descriptions of some amazing examples of community currencies being used to strengthen and protect local economies in the face of severe economic conditions, such as Switzerland's 2.5 billion Swiss Frank WIR trading system, Argentina's half million member Global Trading Network, and Toronto's Dollars. My book also explains the details of how such exchange alternatives should be structured in order to maximize their potential and avoid the common problems that have plagued so many previous monetary systems.

Specific advantages of a properly issued community currency include the following:

* It is a readily available, locally created, medium of exchange, which is supplemental to the limited supply of official currency and bank credit, allowing a fuller realization of potential trades.
* It reduces the cost of financing business and government operations because it represents an i.o.u issued without the payment of interest.
* It gives local providers an automatic preference over outside competitors because it is only redeemable for goods and services offered by local businesses.
* There will be a windfall gain to the issuers, since many visitors will take the New York City currency home as souvenirs instead of spending them (these are your i.o.u.'s that are not presented for redemption).
* Finally, issuance of a NYC currency could prove to be an incredible PR bonanza, eliciting attention and encouragement from every sector of government and the public. This is just the boost NYC needs to psychologically overcome the devastating effects of the terrorist attacks and to make people believe in the city again.

I'm confident that you and your staff will find many useful ideas in this book and I'd be happy to answer any remaining questions you might have.

With best wishes for a successful term,

-- Thomas H. Greco, Jr.