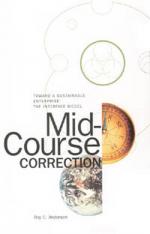 Like this book? Digg it!

Book Data
ISBN: 9780964595354
Year Added to Catalog: 1999
Book Format: Paperback
Book Art: color and b&w graphs, appendix, bibliography
Number of Pages: 5.5 x 8.5, 204 pages
Book Publisher: The Peregrinzilla Press
Old ISBN: 0964595354
Release Date: December 21, 1998
Web Product ID: 316
Also in Socially Responsible Business
Mid-Course Correction
Toward a Sustainable Enterprise--The Interface Model
Excerpt
The Power of One excerpt from Chapter Six

"Brighten the corner where you are." What if everybody did it?
Most of the time, when I make an environmental speech, I'm "preaching to the choir." Yet I am greatly encouraged and believe that the choir is growing, that the global brain is waking up. The number of "alarm clocks" is growing, too.
A quotation attributed to President Lyndon Johnson comes to mind. A rancher and landowner in his native Texas, Mr. Johnson was asked just how much land he wanted to own. He was said to have answered, "Well, just what I have and all that's next to it." Though Johnson's quote illustrated pure greed, in a filial way that's the choir we want singing the gospel of change; what's there now and all that's next to it. So, to this swelling number, I continue to say that we are all part of the continuum of humanity and the web of life in general.We will have lived our brief span and either helped or hurt that continuum, that web, and the earth that sustains all life. It's that simple. Which will it be? It's your call.
How can we help? I believe one person can make a difference. You can. I can. People coming together in organizations like yours and mine can make a big difference. Companies coming together, for example, customers and suppliers uniting in recycling efforts, can make a vast difference. Harnessing wind, current solar income, and hydrogen can make a monumental difference. Daniel Quinn's mission in his paradigm-shifting novel, Ishmael, is to change the minds of six billion people. If that happened and they decided to live their daily lives with Earth's welfare in mind, then Earth, humanity, and all the continuum of life would, indeed, gain a new lease on life. The mid-course correction I think Earth and humanity need probably depends on, more ;than any other one thing, changed minds, i.e., new paradigms. I have suggested one for business: Doing well by doing good. But what will power this change?
In June 1996, Interface sponsored an event called The Power of One. We had seven speakers in the course of a day and a half together: David Brower, Bernadette Cozart, David Gottfried, Paul Hawken, Emily Miggins, John Picard, and Johnna Wenburg.
Each told us about his or her work. There was a wide variety: Two authors, Paul Hawken and David Brower, Hawken, Chairman of The Natural Step USA and the philosophical heir-apparent to Brower, an 84-year-old ex-mountain climber with a reverence for nature who had been the country's most influential environmentalist for 50 years, dating from his days as Executive Director of the Sierra Club.
Bernadette Cozart, greening Harlem and instilling beauty in a community, along with pride and self-respect in its people. Emily Miggins, saving trees and speaking up for women's rights in India and China, as well as right here at home. Johnna Wenburg, telling about living with the orangutans in Borneo and keeping a chimpanzee orphanage in Africa. John Picard, making a difference in construction projects and in architectural and interior design circles all over this country. And David Gottfried, giving up the real estate development and investment banking businesses to follow his heart and live out his love for Earth by promoting "green buildings."
The Power of One has become a recurring theme in our company, as many of our customers, as well as our people, recognize. That day and a half set me to thinking about the power of influence and the way all of those people were exerting influence that went far beyond the direct, immediate effects of what they were doing. Though we, as a company, have a very long way to go to sustainability, how far notwithstanding, I realize now that the journey is taking place on three levels: 1) the level of understanding sustainability, 2) the level of achieving sustainability, and 3) the level of influence. All this can be illustrated graphically; I use Interface merely as an example (See Fig. 6-1).

The curve of understanding or knowledge, call it the "learning curve," is not only about learning what and "where" sustainability is, but also about how to get there, including identification of the technologies, attitudes, and practices that are needed and how they should be developed. Getting well up this curve has brought us to the seven-front plan for climbing that mountain called Sustainability, as well as to the model for the sustainable enterprise.
The curve of achievement, call it the "doing" curve, plots the substantive progress toward sustainability. the gap between knowing and doing represents the technical challenge (just not knowing how) or possibly the resource gap (not being able to afford it), but not, we hoe, a gap of commitment nor of will power. In both understanding and achievement we can only hope to approach 100 percent is the limit. Getting well up the curve of understanding first, truly getting it, is imperative if the achieving part is to be intelligently directed; it's easy to take wrong turns and tangents such as down-cycling precious molecules into less valuable forms-to get it wrong, even with the best of intentions. There are too many right things to do and time is too short to waste resources on tangents. But understanding without those actions that lead to achievement is feel-good hypocrisy and mental self-gratification.
The third curve of influence is the one that will take our company beyond sustainable to restorative, putting back more than we ourselves take, and doing good to Earth, not just no harm. The benefit to Earth from inspiring others to take action too can be greater than from the company's own achievement. On the front of influence, it's worthwhile recognizing that, while there are limits to power from most sources, the powere of influence has no limits (as my friend Dr. Zink reminds me regularly). There are no asymptotes, no mathematical limits, for influence. Yet influence collapses without the undergirding credibility that comes from actually doing it.
The fourth curve, the resultant curve that combines influence and achievement, may be labeled the global benefit curve. A company's total contribution is the sum of what it does and what it helps, inspires, or otherwise influences others to do. Like influence, global benefit also may be limitless; it know no asymptotes, either.
Finally, it's worth pointing out that this same graphic representation can apply to an individual person as well as a corporate community of people. In fact, the graphic picture of an organization in many ways is the sum total of all its individuals' graphs.
Each of us individually is one in 5.8 billion (at this writing, but growing); yet all of us at Interface are 7,000 in 5.8 billion, more than one in a million. But Interface is one thirty-three-thousandth (1/33,000th) of the Global Economy. DuPont and BASF, both 50 times bigger, our major suppliers, are each six-hundredth (1/600th)! All of us are resource intensive, so together we have an even bigger impact than our numbers suggest. As a company, Interface can make an immense difference by setting an example, especially if we can influence DuPont and BASF to join our efforts-and Solutia (spun off from Monsanto), and Geon, and Shell, and all the rest of our suppliers. if our customers join in, too, we can make a colossal difference!
You (the reader), too, have influence. You have the power of one. Your organization has influence too-the collective influence of one and one and one. Knowledge, deep (not superficial) knowledge, getting well up that curve, comes first. Doing (taking action) must follow-in your personal lives and at work. Knowledge and action are critical. They give credibility and validity to your examples and to your influence, which can spread and grow without limit. you, too, can join in that positive feedback loop, doing well by doing good, a win-win for you and Earth.