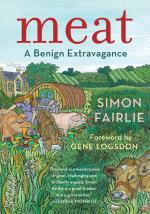 Like this book? Digg it!

Book Data
ISBN: 9781603583244
Year Added to Catalog: 2010
Book Format: Paperback
Dimensions: 7 x 10
Number of Pages: 336
Release Date: February 8, 2011
Web Product ID: 593
Also in Food & Health
Meat
A Benign Extravagance
Foreword by
"No-one has ever analysed the world's food and agriculture more astutely than Simon Fairlie—an original thinker and a true scholar. Here he shows that while meat is generally a luxury it is often the best option, and could always be turned to advantage—if only we did things properly; but this, with present economic policies and legal restrictions, is becoming less and less possible. Everyone should read this book—especially governments, and all campaigners."

—Colin Tudge, Biologist and author
Meat is a groundbreaking exploration of the difficult environmental, ethical, and social issues surrounding the human consumption of animals, and the future of livestock in sustainable agriculture. Garnering huge praise in the UK, this book answers the question: should we be farming animals, or not? The answer is not simple; indeed, we must decrease the amount of meat we eat (both for the planet and for ourselves), and the industrial meat system is hugely problematic, but Simon Fairlie presents in-depth research in favor of small-scale, holistic, and integrated farming systems that include pastured, free-range livestock as the answer to the pro-meat or no-meat debate. George Monbiot, for example, a well-known environmental activist and supporter of veganism, has retracted his support for veganism after reading Meat. This is a life-changing book.

The issues this book addresses—food security, first and foremost—are being undermined by entities demanding rules and regulations in food matters without enough knowledge. Meat fills these gaps, and Fairlie's data proves the solution is neither veganism nor our current model. In fact, Fairlie, a farmer in his own right, presents an agricultural and environmental theory that takes off where other work on vegetarianism and veganism have fallen short in their global scope. His research is based in deep permacultural theory, and a respect for natural systems that flourished long before corporate agriculture and animal factory farms. Most importantly, in the end, Fairlie shows humility in the face of unanswered questions—a rare and wonderful asset that has already invited global discussion among those who might otherwise sheer away from the topic. Meat is a crucial addition to the agricultural canon.
Meat is currently available in Europe and the U.K. from Permanent Publications. The North American version will be available in February 2011.