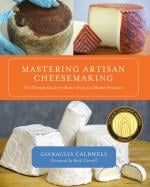 Like this book? Digg it!

Book Data
ISBN: 9781603583329
Year Added to Catalog: 2012
Book Format: Paperback
Book Art: Full-Color Throughout
Dimensions: 8 x 10
Number of Pages: 368
Book Publisher: Chelsea Green
Release Date: September 7, 2012
Web Product ID: 693
Mastering Artisan Cheesemaking
The Ultimate Guide for Home-Scale and Market Producers
Foreword by Ricki Carroll
Praise
"Gianaclis Caldwell has poured her generous mind and heart into this book, and reveals the secret life of one of humanity's most delicious foods. Mastering Artisan Cheesemaking is a wealth of in-depth information won by first-hand experience, yet it's friendly and reassuring, and skillfully unpacks the science and craft of cheesemaking for the interested hobbyist and the artisan alike. After reading it, I'm more fascinated by cheese than ever! My next project may well be a few little bloomy rinds…"

—Margo True, Food Editor, Sunset Magazine
"Gianaclis Caldwell, a farmstead cheese maker of famously delicious cheeses, has--amazingly--revealed all her hard-earned secrets in this wonderful new book. Reading Mastering Artisan Cheesemaking is like taking an advanced cheese making class--not only do we learn how to make cheese at home, we learn the science behind the process, from flocculation to affinage. A must-read for anyone who wants to make cheeses at home."

—Novella Carpenter, author of Farm City: The Education of an Urban Farmer
"I am in awe! For anyone who has ever written a book or sweated over a cheese vat, you know that both require artistry, focus and discipline, dedication, time and more time, and perhaps a bit of creative insanity. Gianaclis Caldwell has either a twin or a clone! As an accomplished artisan enterprise in Southern Oregon, her cheeses from Pholia Farm are beautiful, luscious, and consistently at the top of the game. In her new book, she argues eloquently for the strong relationship between art and science, for deeper understanding and appreciation of milk, and the chemistry and alchemy of a cheese vat. With dozens of recipes, she guides us to create delicious, consistently top-quality cheeses. And as the landscape of American artisan cheese heads towards 1,000 small-scale producers, Mastering Artisan Cheesemaking offers each of them new insights, essential knowledge, and encouragement to experiment and succeed. I deeply admire and respect her ability, standards, and work ethic…now if I could just figure out how she did both!"

—Jeffrey P. Roberts, author of The Atlas of American Artisan Cheese
"Mastering Artisan Cheesemaking is the one book that tells you everything you need to know to become an award-winning cheese maker. Caldwell's practical and straightforward explanations make this entire book (along with its amusing anecdotes) a great pleasure to read. She makes it clear that artisan cheesemaking is a serious endeavor; but her light-hearted approach will remove the fear factor and inspire you to make a go of it anyway. And for everyone who just loves to eat fine artisan cheeses, this book will elevate your respect for all that goes into their creation. Among the recent bounty of books on cheese, this one is a must-have."

—Max McCalman, author of Mastering Cheese
If only Mastering Artisan Cheesemaking had been available a decade or so ago—my cheese making adventures would have been a lot less stressful. Already I see this as the new go-to book for my workshop attendees. Gianaclis Caldwell presents her method of making cheese as an intuitive process, and broaches the truly formidable task of the science of cheese making in an understandable way that only someone that has learned in the classroom and worked in the cheese room can. The section on surface ripened cheese is especially good since these cheeses are more difficult to ripen. Go out and get this book, if you haven't already.

—Jim Wallace, New England Cheesemaking Supply Company
"Mastering Artisan Cheesemaking is a must-have book for the aspiring cheesemaker or cheesemonger. Not only is it amazingly easy to use as a reference book – laying out cheese science in as clear and jargon-free a way as possible – it's also a fun time for the cheese obsessed reader. Why does that rind look like that? How does that cheese get that amazing flavor? I'll admit, this book helped clear up some misperceptions I have held for twenty years about the way certain cheeses are made. I've read this once, but I know I will be referring to it over and over again."

—Gordon Edgar, author of Cheesemonger: A Life on the Wedge
"I am truly knocked out by this wonderful book. Mastering Artisan Cheesemaking is simply superb, and well-nigh flawless. Caldwell's voice comes through so clear, friendly, and free of clinicality. I have learned so much that I didn't realize I didn't know. In fact, the book is so good I'm a little embarrassed that I didn't even know how badly I needed it, and feel I am a vastly improved master cheesemonger for having been blessed with reading it."

—Steven Jenkins, author of Cheese Primer
"Easy to understand and fun to read, Mastering Artisan Cheesemaking provides valuable information on every aspect of cheesemaking—an excellent resource for both cheese makers and cheese lovers."

—Sally Fallon Morell, President, The Weston A. Price Foundation, and cheesemaker
"I have been waiting for a book like Mastering Artisan Cheesemaking for years. Gianaclis Caldwell's detailed, thorough, and accurate guide is a godsend for both home cheesemakers just starting out, as well as experienced professionals. Gianaclis has answered all of my tough questions in this remarkable tome; my only regret is that I needed this guide years ago when I was just starting out."

—Kurt Timmermeister, author of Growing a Farmer, and commercial cheesemaker
"Mastering Artisan Cheesemaking is a beautiful book, rich in theory and practice. Whether you want to deepen your appreciation and understanding for cheese, produce for your family, or bring artisanal cheeses to market, you won't be disappointed."

—Shannon Hayes, author of Radical Homemakers and Long Way on a Little
"Gianaclis Caldwell has combined her extensive knowledge as an award-winning cheesemaker with complementary information from a variety of sources to create a practical guide that will delight both aspiring and seasoned home-scale cheesemakers. Mastering Artisan Cheesemaking will be a valuable addition to any home cheesemaker's library."

—Paul Kindstedt, author of Cheese and Culture and American Farmstead Cheese

US Orders Only.
International Orders: Click here.
Gianaclis Caldwell's Upcoming Events
Gianaclis Caldwell at State of Maine Cheese Co.


461 Commercial St, Rockport ME

April 26, 2014, 12:00 pm

Gianaclis Caldwell at Mother Earth News Fair in Puyallup, WA


Mother Earth News Fair, Puyallup WA

May 31, 2014, 12:00 pm

Gianaclis Caldwell at American Cheese Society Conference


American Cheese Society , Sacramento CA

July 29, 2014, 12:00 pm

Gianaclis Caldwell at Mother Earth News Fair


Mother Earth News Fair, Seven Springs PA

September 12, 2014, 12:00 pm