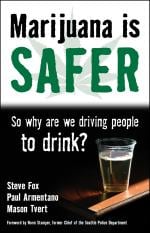 Like this book? Digg it!

Book Data
ISBN: 9781603581448
Year Added to Catalog: 2009
Book Format: Paperback
Dimensions: 5 3/8 x 8 3/8
Number of Pages: 192
Book Publisher: Chelsea Green Publishing
Old ISBN: 1603581448
Release Date: July 27, 2009
Web Product ID: 469
Marijuana Is Safer
So Why Are We Driving People to Drink?
Foreword by Norm Stamper
"Finally, a book that confronts the half-baked hallucinations of a drug policy gone mad. By adroitly juxtaposing the harms of marijuana and alcohol, the book shows just how badly America has overdosed on senselessly stupid marijuana propaganda and the prohibition laws it produced. If you are one of the millions of Americans who support keeping marijuana illegal but enjoy a good beer, glass of wine or cocktail now and then, I suggest you read Marijuana is Safer, rehab your mind, and get high on the facts. If, on the other hand, you already believe our marijuana laws are illogical, this book will give you hope that change is in the air--and show you how you can do your part to push it along."

—David Sirota, nationally syndicated columnist and bestselling author of The Uprising and Hostile Takeover
One of Scribd's Most Social Docs of 2010: #1 Most Read Book
Nationally recognized marijuana-policy experts Steve Fox, Paul Armentano, and Mason Tvert compare and contrast the relative harms and legal status of the two most popular recreational substances in the world—marijuana and alcohol. Through an objective examination of the two drugs and the laws and social practices that steer people toward alcohol, the authors pose a simple yet rarely considered question: Why do we punish adults who make the rational, safer choice to use marijuana instead of alcohol?
Marijuana Is Safer reaches for a broad audience. For those unfamiliar with marijuana, it provides an introduction to the cannabis plant and its effects on the user, and debunks some of the government's most frequently cited marijuana myths. For current and aspiring advocates of marijuana-law reform, as well as anyone else who is interested in what is becoming a major political battle, the authors spell out why the message that marijuana is safer than alcohol must be a prominent part of the public debate over legalization.
Most importantly, for the millions of Americans who want to advance the cause of marijuana-policy reform—or simply want to defend their own personal, safer choice—this book provides the talking points and detailed information needed to make persuasive arguments to friends, family, coworkers, and elected officials.
Foreign editions:
Japanese

US Orders Only.
International Orders: Click here.
Additional Information
Steve Fox's Upcoming Events
Paul Armentano at Aspen Legal Seminar


, Aspen CO

May 30, 2013, 12:00 am