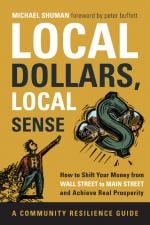 Like this book? Digg it!

Book Data
ISBN: 9781603583435
Year Added to Catalog: 2011
Book Format: Paperback
Dimensions: 6 x 9
Number of Pages: 288
Book Publisher: Chelsea Green
Release Date: February 6, 2012
Web Product ID: 598
Local Dollars, Local Sense
How to Shift Your Money from Wall Street to Main Street and Achieve Real Prosperity
Upcoming Author Events
PRINCETON, NJ

June 6, 2015, 12:00 pmMichael Shuman at Labyrinth Books

122 Nassau Street , Princeton NJ 08542

On June 6th, Michael Shuman will discuss his newest book, "The Local Economy Solution," at Labyrinth Books in Princeton, New Jersey. Copies of "The Local Economy Solution" will be available for sale and signing at this event.

BERKELEY, CA

June 7, 2015, 5:00 pm

Michael Shuman at the Three Stone Hearth

1581 University Ave. , Berkeley CA 94703

On June 7th, Michael Shuman will present at the Three Stone Hearth in Berkeley, CA at 5:00 PM.

SACRAMENTO, CA

June 9, 2015, 1:30 pmMichael Shuman at CAMEO Annual Member Meeting

1300 H Street , Sacramento CA 95814

On June 9th, Michael Shuman will keynote at the annual member meeting of the California Association for Microenterprise (CAMEO). This meeting will take place at the Sterling Hotel in Sacramento, CA from 8:30 AM- 6:00 PM. Michael's presentation will begin at 1:30 PM.

PHOENIX, AZ

June 12, 2015, 11:00 amMichael Shuman at 2015 BALLE Conference

50 East Adams Street, Phoenix AZ 85042

On June 12th of this year's 2015 BALLE Conference, Michael Shuman will speak on the five key economic development functions that support sustainable local businesses — local planning, local purchasing, local entrepreneurship development, local partnerships and local investment — the topic of his brand-new book, "The Local Economy Solution." He will share his findings from a year of research into effective revenue and business models to support all of these functions in a community. Michael will speak alongside entrepreneurs and innovative exemplars from each of these categories and engage in an interactive discussion. This conference will run from June 10-12 and cost $650 for full registration, with discount pricing available.

WASHINGTON, DC

July 22, 2015, 6:30 pmMichael Shuman at Politics and Prose

2021 14th St, NW , Washington DC 20009

On July 22nd, Michael Shuman will speak on his newest book at Politics and Prose's Busboys and Poets location on 14th and V in Washington, DC. This book reading will begin at 6:30 PM and is open to the public. Copies of "The Local Economy Solution" will be available for sale and signing at this event.

Online for US Orders Only
International orders can be placed by phone (802-295-6300) or email
Additional Information
Michael H. Shuman's Upcoming Events
Michael Shuman at Labyrinth Books


122 Nassau Street , Princeton NJ 08542

June 6, 2015, 12:00 pm

Michael Shuman at the Three Stone Hearth


1581 University Ave. , Berkeley CA 94703

June 7, 2015, 5:00 pm

Michael Shuman at CAMEO Annual Member Meeting


1300 H Street , Sacramento CA 95814

June 9, 2015, 1:30 pm

Michael Shuman at 2015 BALLE Conference


50 East Adams Street, Phoenix AZ 85042

June 12, 2015, 11:00 am

Michael Shuman at Politics and Prose


2021 14th St, NW , Washington DC 20009

July 22, 2015, 6:30 pm