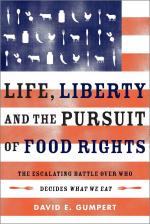 Like this book? Digg it!

Book Data
ISBN: 9781603584043
Year Added to Catalog: 2012
Book Format: Paperback
Dimensions: 6 x 9
Number of Pages: 280
Book Publisher: Chelsea Green
Release Date: May 29, 2013
Web Product ID: 727
Life, Liberty, and the Pursuit of Food Rights
The Escalating Battle Over Who Decides What We Eat
Foreword by Joel Salatin
Reviews, Interviews, & Articles
"[David] Gumpert (The Raw Milk Revolution: Behind America's Emerging Battle Over Food Rights, 2009, etc.) illustrates how Americans have lost the freedom to make their own decisions when it comes to procuring and consuming food, which he considers outrageous. Through extensive passages on organizations, such as the now-shuttered California-based Rawesome Foods, Washington, D.C.–based Grassfed on the Hill, accounts of their Amish suppliers and their encounters with the FDA as well as local public health officials, Gumpert considers some of the still largely unresolved legalities surrounding the sale of raw milk, pastured eggs and other raw foods. He also presents a brief overview of issues familiar to those engaged in food rights activism, including debates on the merits of raw milk in alleviating health problems versus fears of pathogens and outbreaks. Gumpert makes it clear that he sides with the right for private groups to operate without interference, raising basic yet worthy questions on fundamental rights with well-chosen examples of police overreaction, including undercover raids, trespassing, confiscation, mass-disposal of foods and dramatic arrests. Still, he does not write with an overly alarmist tone and fairly portrays the quirks and flaws in the individuals involved—e.g., author and war food activist Aajonus Vonderplanitz. Enriched with historical references ranging from Pasteur to de Tocqueville, this is an accessible, if at times exhaustively detailed, work valuable for its reportage of incidents that have remained largely unknown to the average citizen."—Kirkus Reviews
"Journalist Gumpert (The Raw Milk Revolution: Behind America's Emerging Battle Over Food Rights) chronicles the increasing government regulator crackdowns on private food clubs and the farmers who provide for them, drawing vocal and heretofore unnoticed attention to the lack of freedom Americans have over what they eat, due to the watchful eye of the U.S. Food and Drug Administration. The book contains many disturbing examples, from the farmer who faced jail time for providing raw milk to customers without proper licensing or labeling—though they were clamoring for the product, owned the cows through a co-op, and also never became sick—to the distributors for food clubs who saw close to six figures worth of food destroyed by regulators on cursory evidence, followed by their own trip in the back of a paddy wagon. Unfortunately, the book reads like a call to arms for those who already share Gumpert's point of view. The book would have benefitted from further discussion of the few examples where people did become sick from private food sources, and analysis of the government regulators' perspective. Despite the occasionally chaotic narrative, Gumpert commendably draws attention to a multitude of injustices committed in the name of food safety." — Publisher's Weekly
Reviews for The Raw Milk Revolution

US Orders Only.
International Orders: Click here.
David E. Gumpert's Upcoming Events
David Gumpert at Blue Moon Evolution Restaurant


8 Clifford St, Exeter NH

June 24, 2013, 7:00 pm

David Gumpert at SolarFest 2013


, Tinmouth VT

July 12, 2013, 12:00 pm

David Gumpert at NOFA-MA Summer Conference


, Amherst MA

August 9, 2013, 12:00 pm

David Gumpert at the Mother Earth News Fair


Mother Earth News Fair, Seven Springs PA

September 20, 2013, 12:00 pm

David Gumpert at 2013 Weston A. Price Wise Traditions Conference


, Atlanta GA

November 8, 2013, 12:00 pm