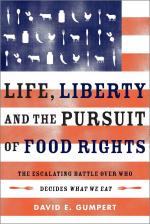 Like this book? Digg it!

Book Data
ISBN: 9781603584043
Year Added to Catalog: 2012
Book Format: Paperback
Dimensions: 6 x 9
Number of Pages: 280
Book Publisher: Chelsea Green
Release Date: May 29, 2013
Web Product ID: 727
Life, Liberty, and the Pursuit of Food Rights
The Escalating Battle Over Who Decides What We Eat
Foreword by Joel Salatin
Reviews, Interviews, & Articles
ForeWord Reviews: This in-depth look at the government's treatment of raw food producers and distributors is a rallying cry against all unnecessary regulation.Before the advent of pasteurization in the 1860s, there was no food processing and little regulation.

Since then, "a lot has changed in attitudes and approaches toward food safety," despite what some believe is evidence suggesting chemical processes that match FDA standards are unhealthy and raw foods are not dangerous. So claims journalist David E. Gumpert, who makes a strong case in Life, Liberty, and the Pursuit of Food Rights that restrictions on raw food distribution and consumption are impinging our basic rights as American citizens.

The journey begins when Gumpert introduces readers to Dan Allgyer, an Amish farmer whose home was raided by the FDA when the agency discovered he was selling unpasteurized dairy products to consenting consumers through a food club. Though he'd been running his business for many years, Allgyer began to worry when hearing of other farmers who had been forced by the FDA to destroy thousands of dollars worth of food, even made to pour bleach over it so they could not feed it to their own pigs.

Gumpert relays competently Allgyer's story and those of other farmers, distributors, and consumers—including that of the Right to Choose Healthy Food Rawesome Club, which required customers to pay a yearly fee to purchase raw milk, eggs, and meat. "There were two key factors in the decision to acquit, Hemingway [a juror] told me. First, the fact that no one became sick from Schlangen's [a distributor] food was very important. One of the three misdemeanor charges accused Schlangen of providing 'adulterated or misbranded' food, and the absence of illness suggested no adulteration. ... A second important factor was the notion that Schlangen wasn't selling, but rather distributing food he obtained on behalf of members."

The examples Gumpert provides of overregulation—such as the illegality of raw milk, even when produced for private use by a family cow, and the FDA's destruction of raw foods that tested negative for harmful bacteria—are made more assertive by quotes from first-hand witnesses, legal documents, and testimonies, which he skillfully weaves into the narrative to make for both an engaging and authoritative read.

Also effective are Gumpert's inclusions of a short history of food processing and FDA regulations, as well as statistics regarding how safe it is to consume raw food. He shares the stories of parents of children with ADHD and asthma who have shown improvement without medication, crediting their health to daily consumption of raw milk.

While the lay reader may have difficulties following the pasteurization process lingo and legal jargon, those with knowledge of food regulation, farmers and co-op members, or those interested in public administration, will admire Gumpert's efforts. This book is not simply a portrayal of people who have been affected by the increased enforcement of FDA regulations, but is more significantly an argument against regulations that infringe on Americans' rights to choose what they eat or drink.

Kirkus Reviews: [David] Gumpert (The Raw Milk Revolution: Behind America's Emerging Battle Over Food Rights, 2009, etc.) illustrates how Americans have lost the freedom to make their own decisions when it comes to procuring and consuming food, which he considers outrageous. Through extensive passages on organizations, such as the now-shuttered California-based Rawesome Foods, Washington, D.C.–based Grassfed on the Hill, accounts of their Amish suppliers and their encounters with the FDA as well as local public health officials, Gumpert considers some of the still largely unresolved legalities surrounding the sale of raw milk, pastured eggs and other raw foods. He also presents a brief overview of issues familiar to those engaged in food rights activism, including debates on the merits of raw milk in alleviating health problems versus fears of pathogens and outbreaks. Gumpert makes it clear that he sides with the right for private groups to operate without interference, raising basic yet worthy questions on fundamental rights with well-chosen examples of police overreaction, including undercover raids, trespassing, confiscation, mass-disposal of foods and dramatic arrests. Still, he does not write with an overly alarmist tone and fairly portrays the quirks and flaws in the individuals involved—e.g., author and war food activist Aajonus Vonderplanitz. Enriched with historical references ranging from Pasteur to de Tocqueville, this is an accessible, if at times exhaustively detailed, work valuable for its reportage of incidents that have remained largely unknown to the average citizen.
Publisher's Weekly Review: Journalist Gumpert (The Raw Milk Revolution: Behind America's Emerging Battle Over Food Rights) chronicles the increasing government regulator crackdowns on private food clubs and the farmers who provide for them, drawing vocal and heretofore unnoticed attention to the lack of freedom Americans have over what they eat, due to the watchful eye of the U.S. Food and Drug Administration. The book contains many disturbing examples, from the farmer who faced jail time for providing raw milk to customers without proper licensing or labeling—though they were clamoring for the product, owned the cows through a co-op, and also never became sick—to the distributors for food clubs who saw close to six figures worth of food destroyed by regulators on cursory evidence, followed by their own trip in the back of a paddy wagon. Unfortunately, the book reads like a call to arms for those who already share Gumpert's point of view. The book would have benefitted from further discussion of the few examples where people did become sick from private food sources, and analysis of the government regulators' perspective. Despite the occasionally chaotic narrative, Gumpert commendably draws attention to a multitude of injustices committed in the name of food safety.
Reviews for The Raw Milk Revolution