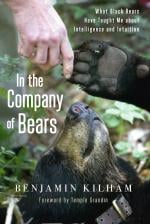 Like this book? Digg it!

Book Data
ISBN: 9781603585873
Year Added to Catalog: 2014
Book Format: Paperback
Book Art: 16-page color insert
Dimensions: 6 x 9
Number of Pages: 216
Book Publisher: Chelsea Green Publishing
Release Date: August 21, 2014
Web Product ID: 831
In the Company of Bears
What Black Bears Have Taught Me about Intelligence and Intuition
Praise
"Ben Kilham's In the Company of Bears is surely the most insightful book about animals written in the last 100 years. His observation of black bears is the best ever done, his data is flawless, and these attributes have created a landmark of science that as far as I know has not been equalled with any other species. And if that's not enough, it's also a page-turner and a must-read. It left me breathless."

—Elizabeth Marshall Thomas, author of The Hidden Life of Dogs and The Tribe of Tiger
"Magnificent! In the Company of Bears is a brilliant read. Kilham perfectly exemplifies how much the world has to gain from the exceptional insights of dyslexic individuals, who often possess a special talent for finding order hidden in the complex patterns of the real world. We cannot recommend this book highly enough."

—Brock and Fernette Eide, authors of The Dyslexic Advantage
"No one knows black bears like Ben Kilham does. During the past decade alone he has raised and rehabilitated to the wild more than 100 orphaned cubs. The social code of the bears, as so delightfully described in In the Company of Bears, includes cooperation, imitation, fairness, punishment for infraction, reciprocity, and other traits of this solitary yet highly social species. Human parallels are drawn, too. The charm and core of the book lie in its anecdotes and unique insights, especially of the female Squirty with whom Ben has had a friendship for more than seventeen years. Read this fascinating book and see the bear's world with new eyes."

—George Schaller, author of The Last Panda; science director, Wildlife Conservation Society
"In the Company of Bears by Benjamin Kilham is one of the finest books on the natural history of an animal that I have ever read. As gripping as the best novel, it is very readable and provides great insights into the mind of the black bear and the human. The research that Kilham has done on the behavior of black bears is groundbreaking and will lead us to a much better understanding of the development of intelligence in mammals and the evolution of cognition throughout the animal world."

—James R. Spotila, Betz Chair Professor of Environmental Science, Department of Biodiversity, Earth and Environmental Science, Drexel University; author of Saving Sea Turtles
"In the Company of Bears is a brilliant revelation about black bears and a paean to human potential. After decades spent caring for orphan bears and releasing them into the wild, Ben Kilham, a dyslexic animal lover, has now summarized what he has learned about their rich social complexity and humanlike intentionality. The result is to turn a supposedly familiar species into a creature of unsuspected acuity. Part science, part intuition, this enticing natural history is a provocative argument about animal minds, and an intimate celebration of life in the New Hampshire woods."

—Richard Wrangham, author of Catching Fire: How Cooking Made us Human; co-director of the Kibale Chimpanzee Project
"Kilham's latest is the most thought-provoking book that I've read about bears. It not only made me think differently about black bears, it also enriched how I feel about them."

—Stephen Herrero, biologist and author of Bear Attacks: Their Causes and Avoidance
"Like Jane Goodall's studies of chimps, Ben Kilham's work with black bears is more than just revealing: it's revolutionary. This riveting book supports two astonishing conclusions: that bears are far more sophisticated than most scientists dared imagine, and that dyslexia, once considered a failing, may simply be another, and often valuable, way of thinking. Ben's work will transform our understanding of how animals live—and how science should be done."

—Sy Montgomery, author of Walking with the Great Apes and Search for the Golden Moon Bear.