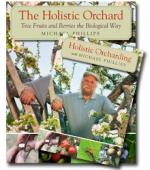 Like this book? Digg it!

Book Data
ISBN: 9781603585095
Book Format: Paperback, DVD
Book Art: Full-Color Throughout
Dimensions: 8 x 10, 300 minutes
Number of Pages: 432
Book Publisher: Chelsea Green
Release Date: March 22, 2013
Web Product ID: 747
Holistic Orcharding with Michael Phillips (Book & DVD Bundle)
Upcoming Author Events
RICHMOND, VA

January 31, 2015, 1:15 pm

Michael Phillips at Virginia Biological Farming Conference

Doubletree Hotel, Richmond VA

Successfully growing fruit for your family becomes straightforward when you narrow the big picture down to getting the basics right. Harvesting sunlight through smart pruning is what renews fruit buds. Fungal disease becomes manageable with wise variety choices and enhanced soil biology. Even major insect challenges can be resolved safely when you perceive who, what, and when. All sorts of fruits—from apples and pears to peaches and cherries and onward to berries—make for a diverse home orchard planting. Confidence to integrate tree fruits into your landscape begins with embracing biodiversity and knowing how to build system health.

RONKS, PA

February 14, 2015, 9:30 amMichael Phillips at Real Health Conference

60 North Ronks Road , Ronks PA 17572

On February 14, Michael Phillips will present several workshops at the Real Health Conference, in Lancaster, Pennsylvania. Michael will join the Lancaster Agricultural Products for a nutrition-focused day on healthy fruit production. Workshops by Michael will include subjects such as orchard health and holistic disease management.

WELLESLEY, MA

March 18, 2015, 12:30 pmMichael Phillips at Wellesley College Botanic Gardens

Science Center 277 Lecture Hall, 106 Central Street, Wellesley MA 02481

On March 18, Michael will present an afternoon lecture on Orchard Ecosystem at Wellesley College Botanic Gardens, Wellesley, Massachusetts. This lecture will be followed by a Q&A tour of the integrated plantings at Wellesley College. Lunch will be provided.

CANTERBURY, NH

April 11, 2015, 10:00 amMichael Phillips at Canterbury Shaker Village

288 Shaker Road, Canterbury NH 03224

On April 11, Michael Phillips will teach two workshops on grafting and pruning at the Canterbury Shaker Village. This day features the basics of grafting fruit trees – and you get to take home your own baby trees! – along with "have at 'em" pruning session with Michael out amongst the apple trees.

POWNAL , ME

April 18, 2015, 10:00 amMichael Phillips at MOFGA Orchard Class

255 Elmwood Rd., Pownal ME 04069

On April 18, Michael will teach a full day class through MOFGA on growing tree fruit organically. This workshop will provide a complete rundown on orchard pests, allies, diseases, and proven varieties from the holistic perspective. This year the class will meet at fellow Chelsea Green author David Buchanan's young cider orchard in Pownal, Maine.

CANTERBURY , NH

May 16, 2015, 10:00 amMichael Phillips at Canterbury Shaker Village

288 Shaker Road, Canterbury NH 03224

On May 16, Michael Phillips will lead a workshop on home orchard care at the Canterbury Shaker Village in New Hampshire. Join this workshop for a comprehensive exploration of orchard health strategies that make disease and insect challenges doable for organic growers. The day will consist of a fun mix of lectures and hands-on time with trees, with many opportunities to ask questions of Michael.

NORTON, MA

June 12, 2015, 8:00 amNancy and Michael Phillips at the International Herb Symposium

26 East Main Street, Norton MA 02766

On June 12-14, Nancy and Michael will teach with herbalists from around the globe at the International Herb Symposium, at Wheaton College. Nancy will lead two workshops on kitchen cabinet pharmacy and herbs for children's health, as well as an intensive on herbal preparations 101, while Michael will lead two workshops on health plant metabolism, and garlic connections. Early bird registration cost is $275, and regular registration is $350.

Online for US Orders Only
International orders can be placed by phone (802-295-6300) or email
Michael Phillips's Upcoming Events
Michael Phillips at Virginia Biological Farming Conference


Doubletree Hotel, Richmond VA

January 31, 2015, 1:15 pm

Michael Phillips at Real Health Conference


60 North Ronks Road , Ronks PA 17572

February 14, 2015, 9:30 am

Michael Phillips at Wellesley College Botanic Gardens


Science Center 277 Lecture Hall, 106 Central Street, Wellesley MA 02481

March 18, 2015, 12:30 pm

Michael Phillips at Canterbury Shaker Village


288 Shaker Road, Canterbury NH 03224

April 11, 2015, 10:00 am

Michael Phillips at MOFGA Orchard Class


255 Elmwood Rd., Pownal ME 04069

April 18, 2015, 10:00 am