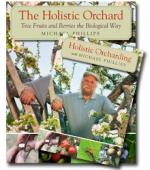 Like this book? Digg it!

Book Data
ISBN: 9781603585095
Book Format: Paperback, DVD
Book Art: Full-Color Throughout
Dimensions: 8 x 10, 300 minutes
Number of Pages: 432
Book Publisher: Chelsea Green
Release Date: March 22, 2013
Web Product ID: 747
Holistic Orcharding with Michael Phillips (Book & DVD Bundle)
Upcoming Author Events
NORTHEAST KINGDOM, VT

April 5, 2014, 9:00 am

Michael Phillips at the Old Stone House Museum

Old Stone House Museum, Northeast Kingdom VT

Michael Phillips will teach a Grafting and Pruning workshop at the Old Stone House Museum in the Northeast Kingdom of Vermont. Participants get to graft seedling rootstock under Michael's tutelage and then get to take their "trees-to-be" back home. Pruning is explained in layman's terms and then aptly demonstrated.

CANTERBURY, NH

April 12, 2014, 9:00 am

Michael Phillips at NOFA NH Orchard Class

Canterbury Shaker Village, Canterbury NH

Michael Phillips will teach a full day workshop which will cover all considerations for bringing back an orchard, including some definitive pruning.

UNITY, ME

April 19, 2014, 9:00 am

Michael Phillips at MOFGA Orchard Class

MOFGA, Unity ME

Michael enjoys heading "downeast" to teach folks for a full day on growing tree fruit organically for their families and communities. Come for a complete rundown on orchard pests, allies, diseases, and proven varieties from the holistic perspective. Check out MOFGA's Events Calendar for all pertinent details.

CHARLOTTESVILLE, VA

May 3, 2014, 9:00 am

Michael Phillips at Vintage Virginia Apples

Vintage Virginia Apples, Charlottesville VA

Join us for a comprehensive exploration of orchard health strategies that make disease and insect challenges doable for organic growers. The day will consist of a fun mix of lectures and hands-on time with trees, with many opportunities to ask questions of Michael. Learn more at www.albemarleciderworks.com.

US Orders Only.
International Orders: Click here.
Michael Phillips's Upcoming Events
Michael Phillips at the Old Stone House Museum


Old Stone House Museum, Northeast Kingdom VT

April 5, 2014, 9:00 am

Michael Phillips at NOFA NH Orchard Class


Canterbury Shaker Village, Canterbury NH

April 12, 2014, 9:00 am

Michael Phillips at MOFGA Orchard Class


MOFGA, Unity ME

April 19, 2014, 9:00 am

Michael Phillips at Vintage Virginia Apples


Vintage Virginia Apples, Charlottesville VA

May 3, 2014, 9:00 am