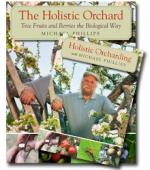 Like this book? Digg it!

Book Data
ISBN: 9781603585095
Book Format: Paperback, DVD
Book Art: Full-Color Throughout
Dimensions: 8 x 10, 300 minutes
Number of Pages: 432
Book Publisher: Chelsea Green
Release Date: March 22, 2013
Web Product ID: 747
Holistic Orcharding with Michael Phillips (Book & DVD Bundle)
Upcoming Author Events
SHELBURNE, MA

November 1, 2014, 10:00 amMichael Phillips at the 2014 Cider Days

Various Locations, Shelburne MA

Come for two days of orchard tours, cider making and tastings, and workshops, November 1-2. This is for all who love apples, fresh or hard cider, apple cuisine, apple orchards or just being in New England in the fall. Michael will be there to give an organic orchard tour, share growing insights with other noted orchardists, and lead a traditional wassail ceremony.