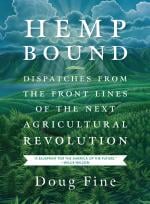 Like this book? Digg it!

Book Data
ISBN: 9781603585439
Year Added to Catalog: 2014
Book Format: paperback
Dimensions: 5.5 x7.5
Number of Pages: 192
Book Publisher: Chelsea Green
Release Date: March 21, 2014
Web Product ID: 791
Also in Politics & Social Justice
Hemp Bound
Dispatches from the Front Lines of the Next Agricultural Revolution
Praise
"I never dreamed industrial hemp had so much promise until I read Doug Fine's Hemp Bound. The book is not only fun to read, but it passes along fascinating insights about a farm crop that produces many food and fiber products and is adapted to areas where corn and soybeans are rarely profitable. As the author points out with gracious good humor, industrial hemp is not medical marijuana, and it should become a major farm crop in America as it has elsewhere."

—Gene Logsdon, author of Gene Everlasting and Holy Shit: Managing Manure to Save Mankind
"The issue is simple: farmers need hemp, the soil needs hemp, forests need hemp, and humanity needs the plant that the good Lord gave us for our own survival—hemp. The benefits are too many to name, but if hemp was a crop that could be monopolized by industrial Ag corporations it would already be legal. Hemp Bound tells us with detail and humor how to get to the environmental Promised Land. Doug has created a blueprint for the America of the future."

—Willie Nelson, songwriter, president of Farm Aid
"Doug Fine's engrossing and eye-opening book reveals hemp's role as a new source of food, energy, and raw materials. This absurd war on one of the world's most useful plants is about to end, and everyone can declare victory."

—Mark Frauenfelder, founder, Boing Boing
"Hemp is our ancestral ally, one that long provided us with food, shelter, clothing, and medicine. Hemp Bound reveals that now is the time to remember this alliance with hemp after years of prohibition, and that although it won't save us, it can help us. That's what earth medicine does."

—John Trudell, poet, recording artist, actor, activist, and cofounder of Hempstead Project HEART
"If ever anyone needed proof that government meddling in markets is injurious to innovation, Hemp Bound dispels all doubt. With science and humor, Fine paints an alternative and optimistic future—one that makes growing hemp seem as exhilarating and necessary as clean air. Fine's style and storytelling ability make this one of the most fun books you'll ever read about the future of farming."

—Joel Salatin, author of Everything I Want to Do Is Illegal
"In Hemp Bound, Doug Fine convincingly describes the proven value and amazing potential of the nonpsychoactive variety of the cannabis plant. You can eat it, drink it, read it, tie it, wear it, drive it, live in it, and make money growing it, all while saving the soil and protecting the climate. This is an important story, engagingly told."

—William Martin, senior fellow, drug policy, Rice University's Baker Institute
"Hemp Bound is informative, entertaining, and chock full of stories about hemp farmers, wannabe hemp farmers, passionate activists, and savvy business people. It is a fun book to read and hopefully, alongside aggressive legalization at the state level, it will help break down the roadblocks to production that the cotton, vegetable oil, plastics, lumber, and paper corporations constructed and maintained since shortly after the Second World War. Doug Fine is right: this incredible plant could be a boon to large and small farmers and rural communities—one that we have been prohibited from growing in this country for more than fifty years. Hemp's time has come again."

—Will Allen , organic farmer; author, The War on Bugs

US Orders Only.
International Orders: Click here.
Doug Fine's Upcoming Events
Doug Fine Interview with Sea Change Radio


2 Mizpah St., San Francisco CA

April 23, 2014, 10:30 am

Doug Fine Interview with "The Conversation"


, Seattle WA

April 24, 2014, 9:30 pm

Doug Fine Interview at "Think Out Loud"


,

April 25, 2014, 11:30 am

Doug Fine Interview at "The Karel Show"


, San Francisco CA

April 26, 2014, 10:05 pm

Doug Fine at Powell's Bookstore


Powell's Bookstore, 1005 W Burnside St. , Portland OR

April 27, 2014, 7:30 pm