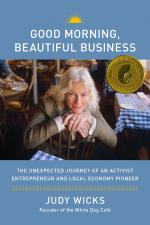 Like this book? Digg it!

Book Data
ISBN: 9781603585057
Year Added to Catalog: 2012
Book Format: Hardcover
Book Art: Color Insert
Dimensions: 6 x 9
Number of Pages: 320
Book Publisher: Chelsea Green
Release Date: March 6, 2013
Web Product ID: 742
Also in Socially Responsible Business
Good Morning, Beautiful Business
The Unexpected Journey of an Activist Entrepreneur and Local Economy Pioneer
Praise
"Beware. This is a business book like no other. It will change how you see the world, America, business, and the economy and should be required reading in every school of business and department of economics. Judy Wicks teaches us how to succeed at business while managing from the heart, having an outrageously good time, and measuring success as contribution to healthy communities and a world that works for all. Those who take Wicks and the White Dog as their model change the world one beautiful business at a time."

—David Korten, cofounder of YES! Magazine and author of Agenda for a New Economy: From Phantom Wealth to Real Wealth, and The Great Turning: From Empire to Earth Community
"If there ever is a Nobel Prize in planet-saving, Judy Wicks deserves to be the first recipient. Besides creating one of Philadelphia's most popular restaurants (the White Dog Café), her legacy includes Pennsylvania's local food movement, America's fastest growing network of independent businesses, and entrepreneurs worldwide — especially women — whom she has inspired to make business the leading edge of social change. In this riveting, funny, and moving autobiography, Judy also reveals herself as a superb storyteller and a sharp policy critic. Her life story, which unfolds from the Arctic to Chiapas, shows how one passionate person really can bend the arc of history toward justice."

—Michael Shuman, author of Local Dollars, Local Sense: How to Shift Your Money from Wall Street to Main Street and Achieve Real Prosperity
"Judy Wicks set out to create a business that expressed her values, served her community, and fed her family. She ended up leading a national movement to build local economies that are inclusive and resilient, provide green job opportunities, and conduct business sustainably and responsibly. Good Morning, Beautiful Business is an inspiration — a living, breathing tale of the new American dream in action."

—Van Jones, author of Rebuild the Dream
"Judy Wicks is something rare, invaluable, and essential in our time: a visionary artisan of cultural renaissance. Read this book. Learn what she's done and, even more important, how she became who she is. Let her story inspire you more fully into your own cultural artistry."

—Bill Plotkin, author of Soulcraft
"Guided by her own powerful activist sensibility, Judy Wicks beautifully conveys the important influences that a restaurant, or any business, can have within a community — politically, economically, and socially."

—Alice Waters, owner of Chez Panisse and author of The Art of Simple Food
Judy Wicks followed her passion and trusted her heart; she uncovered and was guided by what makes healthy local businesses thrive; and then she led a movement to share her discoveries and help transform other local economies. Now, thanks to her vision and leadership, there are hundreds of communities unlocking the power of local commerce for good. What a gift from a true pioneer who shows us how to unite an avocation with a vocation!

—Will Raap, founder, GardenerÂ's Supply and Intervale Center
"Judy Wicks' brilliance redefines what a business can be. The White Dog Café models what commerce will become if we are to create a livable future. This is business as spiritual practice, business as kindness, business as community, business as justice, joy, transformation, leadership, and generosity. There is nothing here you will learn in business school because the White Dog Café is not in the business of selling life; it's in the business of creating life. How blessed is Philadelphia and the world for her presence and prescience."

—Paul Hawken, author of Blessed Unrest
"Judy Wicks's journey is potent medicine for a culture that falsely separates personal life and work, self and community, business and environment, and entrepreneurship and activism. Anyone who wants to engage their full entrepreneurial vision, and find their own unique path that may combine seemingly disparate goals, can take heart: this remarkable story is a visionary beacon and joyful read."

—Nina Simons, Cofounder of Bioneers.
"Wow. What a woman, what a book. In it, you enter the life of someone who, even as a child, learned that she could create — that she could make things and make things happen. We need Wicks's confidence and courage now more than ever. So read it and you'll get some. Her spunk is contagious."

—Frances Moore Lappé , author of EcoMind: Changing the Way We Think, to Create the World We Want
"Fun and funny, kind and savvy, Good Morning, Beautiful Business is a rollicking good tale about a rollicking good life. From working as waitress at a restaurant she helps save from demolition at age 23, to becoming a world leader in the socially responsible business movement, activist-entrepreneur Judy Wicks shows how one woman can help build a compassionate, locally sourced economy — and have a blast doing so. These pages are as full of friendships, food, and dancing as they are of great ideas that could apply to businesses in any town. Judy Wicks is an inspiration. By the end of this wonderful book, she seems like an old friend whose example can change your life."

—Sy Montgomery, author of The Good Good Pig
"Judy Wicks is one of our great leaders and visionaries, and this books makes clear why. She thinks about traditional subjects ('business,' 'economics') in fresh, practical, real, and powerful ways. Read it and then live it yourself!"

—Bill McKibben, author of Deep Economy: The Wealth of Communities and the Durable Future
"Judy Wicks is one of the most amazing women I have ever met. She ran the legendary White Dog Café with passion, heart, common sense, and financial success. And she continues to blaze new paths on the road to a truly sustainable people-centered economy. This is a must-read book."

—Ben Cohen, cofounder, Ben & Jerry's