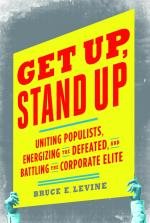 Like this book? Digg it!

Book Data
ISBN: 9781603582988
Year Added to Catalog: 2010
Book Format: Paperback
Dimensions: 6 x 9
Number of Pages: 256
Book Publisher: Chelsea Green
Release Date: March 28, 2011
Web Product ID: 623
Also in Politics & Social Justice
Get Up, Stand Up
Uniting Populists, Energizing the Defeated, and Battling the Corporate Elite
"In an era when most political commentary has degenerated into self-satisfied carping and smug Monday morning quarterbacking, Bruce E. Levine breaks out of this intellectual paralysis with a clarion call for a new kind of politics. Levine offers a progressive user's manual for reclaiming our government from the stranglehold of corporate greed and rightwing paranoia. As an antidote to apathy, Get Up, Stand Up is worthy of Bob Marley, which is very high praise indeed. Read it, absorb it, act on it."

—Jeffrey St. Clair, co-editor, CounterPunch, and author of Born Under a Bad Sky
Polls show that the majority of Americans oppose recent US wars and Wall Street bailouts, yet most remain passive and appear resigned to powerlessness. In Get Up, Stand Up, Bruce Levine offers an original and convincing explanation for this passivity. Many Americans are deeply demoralized by decades of oppressive elitism, and they have lost confidence that genuine democracy is possible. Drawing on phenomena such as learned helplessness, the abuse syndrome, and other psychological principles and techniques for pacifying a population, Levine explains how major US institutions have created fatalism. When such fatalism and defeatism set in, truths about social and economic injustices are not enough to set people free.

However, the situation is not truly hopeless. History tells us that for democratic movements to get off the ground, individuals must recover self-respect, and a people must regain collective confidence that they can succeed at eliminating top-down controls. Get Up, Stand Up describes how we can recover dignity, confidence, and the energy to do battle. That achievement fills in the missing piece that, until now, has undermined so many efforts to energize genuine democracy.

Get Up, Stand Up details those strategies and tactics that oppressed peoples have successfully employed to gain power. We the People can unite, gain strength, wisely do battle, and wrest power away from the ruling corporate-government partnership (the "corporatocracy"). Get Up, Stand Up explains how.