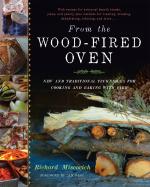 Like this book? Digg it!

Book Data
ISBN: 9781603583282
Year Added to Catalog: 2013
Book Format: Hardcover, PLC
Book Art: Full-Color Throughout
Dimensions: 8 x 10
Number of Pages: 352
Book Publisher: Chelsea Green
Release Date: October 1, 2013
Web Product ID: 757
Also in Food & Health
From the Wood-Fired Oven
New and Traditional Techniques for Cooking and Baking with Fire
Foreword by Daniel Wing
Reviews, Interviews, & Articles
"It's safe to say that most of us won't be baking in a wood-fired oven . . . at least, in the foreseeable future. On the other hand, for bread aficionados and others addicted to the tastes emanating from these kinds of ovens, there's no better substitute for the knowledge and expertise Miscovich imparts—not to mention the 50-something recipes. He begins with the foundations: understanding ovens and fuel, operating guidelines, and all the processes that comprise bread-baking, from ingredients to proofing. Every chapter is filled with color photographs and, when necessary, step-by-step sequences. Where the author truly excels is in his very thorough explanation of recipes. They're woven into the text, using a narrative style. He freely gives advice, variations, and commentary on best and not-as-good versions, as well as caveats (e.g., what to expect from a bread starter when it's been transferred from another region). At times, personal stories appear, from his relationship with the late Alan Scott (a master brick-oven builder and coauthor of the seminal work on wood-fired ovens) to his bout with carpal tunnel syndrome. Thorough and completely engaging."—Booklist

US Orders Only.
International Orders: Click here.
Additional Information
Richard Miscovich's Upcoming Events
Richard Miscovich at King Arthur Flour


135 US Route 5 South, Norwich VT

December 13, 2013, 12:00 pm

Richard Miscovich at NOFA MA Winter Conference


NOFA MA Winter Conference, Worcester MA

January 11, 2014, 12:00 pm

Richard Miscovich at NOFA VT Winter Conference


Davis Center, University of Vermont, Burlington VT

February 15, 2014, 12:00 pm

Richard Miscovich at King Arthur Flour


135 US Route 5 South, Norwich VT

March 28, 2014, 12:00 pm