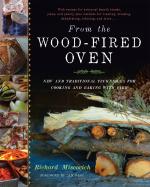 Like this book? Digg it!

Book Data
ISBN: 9781603583282
Year Added to Catalog: 2013
Book Format: Hardcover, PLC
Book Art: Full-Color Throughout
Dimensions: 8 x 10
Number of Pages: 352
Book Publisher: Chelsea Green
Release Date: October 1, 2013
Web Product ID: 757
Also in Food & Health
From the Wood-Fired Oven
New and Traditional Techniques for Cooking and Baking with Fire
Foreword by Daniel Wing
Reviews, Interviews, & Articles
"It's safe to say that most of us won't be baking in a wood-fired oven . . . at least, in the foreseeable future. On the other hand, for bread aficionados and others addicted to the tastes emanating from these kinds of ovens, there's no better substitute for the knowledge and expertise Miscovich imparts—not to mention the 50-something recipes. He begins with the foundations: understanding ovens and fuel, operating guidelines, and all the processes that comprise bread-baking, from ingredients to proofing. Every chapter is filled with color photographs and, when necessary, step-by-step sequences. Where the author truly excels is in his very thorough explanation of recipes. They're woven into the text, using a narrative style. He freely gives advice, variations, and commentary on best and not-as-good versions, as well as caveats (e.g., what to expect from a bread starter when it's been transferred from another region). At times, personal stories appear, from his relationship with the late Alan Scott (a master brick-oven builder and coauthor of the seminal work on wood-fired ovens) to his bout with carpal tunnel syndrome. Thorough and completely engaging."—Booklist

"Passionate thoughts combine with a spectacular range of ideas for using wood-fired ovens to make this guide a must-have for anyone curious about this well-loved cooking method.

Although wood-fired ovens are best known for crispy pizza crusts and rustic breads, they can be utilized for a much wider array of tasks, from drying wood to roasting meats. Richard Miscovich's extensive guidebook on using these types of ovens celebrates the stunning breadth of tactics while also providing insights into history, homesteading, and masonry.

Although there are several guides to building ovens and books that offer baking techniques, it's Miscovich's expertise at fusing these two worlds that proves especially helpful. In straightforward language, he breaks down factors like conduction, convection, radiant heat, thermal breaks, and other important aspects of wood-fired ovens.

Guiding readers through the "full heat cycle" and its uses, he provides instructions on cooking everything from roasted vegetables to seared fish, and his in-depth sections on breads are particularly stunning. The step-by-step directions are easily understood, and there are so many variations to basic recipes that it would likely be challenging to tackle everything included. Accompanying photos capture the delicious results.

Beyond the nuts-and-bolts approach to utilizing the ovens, Miscovich's guide returns often to the idea of sustainability. He writes about self-sufficiency, creating a reliable food supply, traditional skills, and community building. Cooking with fire isn't just a fun technique, he believes, but it's also a way to get back some of the wisdom and fellowship that's been lost: 'Wood-fired ovens fulfill resiliency's requirements: flexibility, diversity, and a backup system to ensure self-reliance instead of helplessness … Generous sharing of information among bakers, millers, and oven builders increases our community's resilience."'" —ForeWord Reviews

US Orders Only.
International Orders: Click here.
Richard Miscovich's Upcoming Events
Richard Miscovich at Breadhitz


Breadhitz, Rehoboth MA

May 3, 2014, 9:00 am

Richard Miscovich at King Arthur Flour


King Arthur Flour, Norwich VT

June 13, 2014, 4:00 am

Richard Miscovich at the 2014 Grain Gathering


16650 State Route 536, Mount Vernon WA

August 21, 2014, 12:00 pm

Richard Miscovich at The Bread Bakers Guild of America


The Bread Bakers Guild, Chicago IL

September 18, 2014, 12:00 pm

Richard Miscovich at King Arthur Flour


King Arthur Flour, Norwich VT

October 10, 2014, 4:00 pm