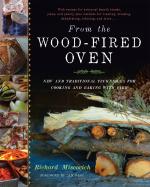 Like this book? Digg it!

Book Data
ISBN: 9781603583282
Year Added to Catalog: 2013
Book Format: Hardcover, PLC
Book Art: Full-Color Throughout
Dimensions: 8 x 10
Number of Pages: 352
Book Publisher: Chelsea Green
Release Date: October 1, 2013
Web Product ID: 757
Also in Food & Health
From the Wood-Fired Oven
New and Traditional Techniques for Cooking and Baking with Fire
Foreword by Daniel Wing
Praise
"Even if you don't have a wood-fired oven, and you bake bread, get this book. The technical information about bread is approachable and correct and will bring your bread baking to the next level."

—Solveig Tofte, co-owner, Sun Street Breads, Minneapolis
"Richard has done so much more than just transfer his extensive knowledge about baking and wood-fired ovens onto paper in this book; he talks to the reader in a way that makes you feel that he is right in front of you, sharing his experiences, encouraging you to travel down a path that has brought him to where he is. His personal stories and experiences take this book beyond great, to one of a kind. I like that he doesn't assume the reader knows anything. You will learn about the bones of a wood-fired oven, including not just how to use it but how to make the most of it. He covers all the details and answers all the questions before you have to ask. It is a must-have addition to the collection of any food enthusiast, amateur or professional!"

—Jeff Yankellow, board chair, Bread Bakers Guild of America
"Finally, a modern and comprehensive wood-fired oven management book! Richard addresses innovations in oven design and offers intelligent approaches to getting the most out of your wood-fired oven. Interweaving homespun anecdotes with solid bread baking and culinary instruction while offering clear explanations of oven design, this book answers the questions and concerns of bakers of all levels."

—Melina Kelson, certified master baker, Bootleg Batard and Kendall College
"This book is going to change the way I use my oven—how I make and control the heat and steam, the things I bake and cook, and how much of the heat of the oven I use instead of waste. If you are just starting now to plan a masonry oven—or if you have been using one for 20 years—you are still going to want to own this book."

—Dan Wing, from the foreword by Dan Wing, co-author of The Bread Builders
"This is the book for which all wood-fired oven owners, hopeful owners, and serious bakers have been waiting. Richard Miscovich's descriptions and instructions are both practical and inspirationally poetic—dare I say, soulful. He ignites the fire within, and compels us to want to know what he knows and to bake as well as he bakes. In this book, he shares it all."

—Peter Reinhart, author of The Bread Baker's Apprentice and Artisan Breads Everyday
"When it comes to anything wood-fired, Richard Miscovich has set the new gold standard with his comprehensive book, From the Wood-Fired Oven. Both well written and inspiring, his book takes the reader on a journey that will delight and educate amateur and professional bakers alike. Richard is a master of this ancient craft, and his expert command of formula development, along with his knowledge of the classic and cutting-edge concepts in wood-fired oven construction, use, and maintenance, make this book unique and a must-have for any baker's library!"

—Ciril Hitz, author of Baking Artisan Bread and Baking Artisan Pastries and Breads.
"So, you want a wood-fired oven to bake bread and have pizza parties? What should you build? How does it work? What else can it cook? As an oven-builder I hear these questions a lot, but the books I can recommend for cooking with fire say little about ovens, and the ones about bread and ovens don't take you very far with cooking. So I'm glad to now be able to recommend Richard Miscovich's From the Wood-Fired Oven. He speaks with the authority of a professional baking instructor (and cook), an experienced mason, and a neighborhood baker; he also writes well, takes beautiful photos, and has a wealth of stories to tie it all together. He's worked with leading professionals in many fields, and teaches from extensive experience with bread, pizza, meats, vegetables, desserts, etc., as well as ovens, masonry, fire, heat, and more."

—Kiko Denzer, author of Build Your Own Earth Oven