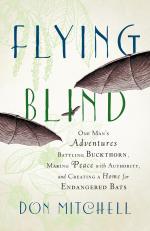 Like this book? Digg it!

Book Data
ISBN: 9781603585200
Year Added to Catalog: 2013
Book Format: Hardcover
Dimensions: 5 1/2 x 8 1/2
Number of Pages: 224
Book Publisher: Chelsea Green
Release Date: August 14, 2013
Web Product ID: 758
Also in Nature & Environment
Flying Blind
One Man's Adventures Battling Buckthorn, Making Peace with Authority, and Creating a Home for Endangered Bats
Reviews, Interviews, & Articles
Reviews of Flying Blind
Publishers Weekly Review: Middlebury writing professor, novelist, and shepherd Mitchell (The Nature Notebooks) didn't set out to become an environmental hero at the outset of this elegantly written eco-memoir. Despite his mistrust of authority, in 2009, Mitchell is ridding Vermont forests of invasive plant species and rescuing bats through a government program: the Wildlife Habitat Incentive Program (WHIP). This quest leads Mitchell into the darkness of the woods, and back out into a deepened understanding of himself and the natural world. The physical labor and nature of the forest come to stand for Mitchell's inner journey—making peace with the darkness in his family's past, while strengthening the bonds in his family's present. The methodical work, both of weeding and writing, allows him to restore the forest within, the "decay" allowing him to access rich literary material in his personal and family history. Collaborating with the government he once despised, Mitchell helps a team track bats, revealing why the endangerment of bats threatens the ecosystem. In helping to save them, he salvages part of himself: "Befriending bats had been a means to figure out, against all odds, where in the world I actually was." Mitchell weaves personal and environmental story lines in patterns as beautiful and natural as any ecosystem could create.
Reviews of The Nature Notebooks