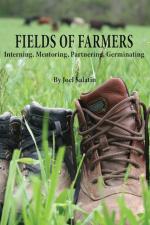 Like this book? Digg it!

Book Data
ISBN: 9780963810977
Year Added to Catalog: 2013
Book Format: Paperback
Dimensions: 6 x 9
Number of Pages: 304
Book Publisher: Polyface, Inc.
Release Date: September 16, 2013
Web Product ID: 765
Fields of Farmers
Interning, Mentoring, Partnering, Germinating
America's average farmer is sixty years old. When young people can't get in, old people can't get out. Approaching a watershed moment, our culture desperately needs a generational transfer of millions of farm acres facing abandonment, development, or amalgamation into ever-larger holdings.
Based on his decades of experience with interns and multigenerational partnerships at Polyface Farm, farmer and author Joel Salatin digs deep into the problems and solutions surrounding this land- and knowledge-transfer crisis. This book empowers aspiring young farmers, midlife farmers, and nonfarming landlords to build regenerative, profitable agricultural enterprises.
Have you registered for
Polyface Farm Field Day yet
(July 19th)? You won't want to miss this awesome event! It only comes around once every 3 years. More information here:
http://www.acresusa.com/events/
"This is not a conference — you won't see charts and graphs nor hear academic theories. This is a family day to see, handle and taste what works, what is true, and what is real. It's a celebration of opportunities. Our goal is to encourage you to catch a vision for agricultural enterprises that are emotionally, economically and environmentally enhancing."- Joel Salatin

US Orders Only.
International Orders: Click here.
Additional Information
Joel Salatin's Upcoming Events
Joel Salatin at Agrarian Trust Symposium


David Brower Center, Berkeley CA

April 26, 2014, 12:00 pm

Joel Salatin at California Agrarian Tour


, San Francisco Bay CA

April 27, 2014, 12:00 pm

Joel Salatin at Elwood-Thompson Lecture Series


, Richmond VA

May 22, 2014, 6:00 pm

Joel Salatin at Home Educators Association of Virginia


, Richmond VA

June 7, 2014, 12:00 pm

Joel Salatin at 2014 Polyface Farm Field Day


Pure Meadows Lane, Swoope Virginia

July 19, 2014, 8:00 am