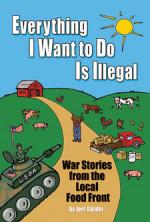 Like this book? Digg it!

Book Data
ISBN: 9780963810953
Year Added to Catalog: 2007
Book Format: Paperback
Dimensions: 6 x 9
Number of Pages: 352
Book Publisher: Polyface Press
Old ISBN: 0963810952
Release Date: September 15, 2007
Web Product ID: 392
Everything I Want to Do Is Illegal
War Stories from the Local Food Front
Drawing upon 40 years' experience as an ecological farmer and marketer, Joel Salatin explains with humor and passion why Americans do not have the freedom to choose the food they purchase and eat. From child labor regulations to food inspection, bureaucrats provide themselves sole discretion over what food is available in the local marketplace. Their system favors industrial, global corporate food systems and discourages community-based food commerce, resulting in homogenized selection, mediocre quality, and exposure to nonorganic farming practices. Salatin's expert insight explains why local food is expensive and difficult to find and will illuminate for the reader a deeper understanding of the industrial food complex.
Have you registered for
Polyface Farm Field Day yet
(July 19th)? You won't want to miss this awesome event! It only comes around once every 3 years. More information here:
http://www.acresusa.com/events/
"This is not a conference — you won't see charts and graphs nor hear academic theories. This is a family day to see, handle and taste what works, what is true, and what is real. It's a celebration of opportunities. Our goal is to encourage you to catch a vision for agricultural enterprises that are emotionally, economically and environmentally enhancing."- Joel Salatin

US Orders Only.
International Orders: Click here.
Additional Information
Joel Salatin's Upcoming Events
Joel Salatin at Agrarian Trust Symposium


David Brower Center, Berkeley CA

April 26, 2014, 12:00 pm

Joel Salatin at California Agrarian Tour


, San Francisco Bay CA

April 27, 2014, 12:00 pm

Joel Salatin at Elwood-Thompson Lecture Series


, Richmond VA

May 22, 2014, 6:00 pm

Joel Salatin at Home Educators Association of Virginia


, Richmond VA

June 7, 2014, 12:00 pm

Joel Salatin at 2014 Polyface Farm Field Day


Pure Meadows Lane, Swoope Virginia

July 19, 2014, 8:00 am