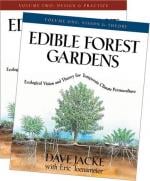 Like this book? Digg it!

Book Data
ISBN: 9781890132606
Year Added to Catalog: 2005
Book Format: Hardcover
Book Art: full color, charts and illustrations, resources, plant lists, glossary, bibliography, index
Number of Pages: 8 x 10, 396 pages, 672 pages
Book Publisher: Chelsea Green Publishing
Old ISBN: 1890132608
Release Date: November 16, 2005
Web Product ID: 128
Edible Forest Gardens (2 volume set)
Volume I: Ecological Vision and Theory for Temperate Climate Permaculture,
Volume II Ecological Design and Practice for Temperate Climate Permaculture
Upcoming Author Events
Dave Jacke's Events
Eric Toensmeier's Events
SEDALIA, CO

May 29, 2015, 6:00 pmEric Toensmeier at Integrated Social and Ecological Design

2584 N. State Hwy 67, Sedalia CO 80135

From May 29th-June 7th, Eric Toensmeier will teach a course on social and ecological design with Pandora Thomas, and Brad Lancaster through the Woodbine Ecology Center in Colorado. Cost to attend is $1575, with an early bird rate of $1295 before May 1st.