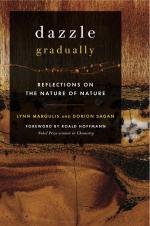 Like this book? Digg it!

Book Data
ISBN: 9781933392318
Year Added to Catalog: 2007
Book Format: Paperback
Number of Pages: 6 x 9, 392 pages
Book Publisher: Chelsea Green Publishing
Old ISBN: 1933392312
Release Date: May 16, 2007
Web Product ID: 163
Dazzle Gradually
Reflections on the Nature of Nature
Foreword by Roald Hoffman
Praise
"In Dazzle Gradually we have one of the great iconoclastic biologists of our time and her son, both excellent writers, firing ideas at us, reflecting, asking questions, making connections. 'Truth's superb surprise' is their gift to us."

—Roald Hoffmann, Nobel Prize winner in Chemistry, from the Foreword
"Dazzle Gradually sparkles with insight and wit as it delves into a host of topics in biology and ecology, linking them in new ways that highlight scientific understanding and speculation at their enjoyable best."

—Donald Goldsmith, co-author of Origins: Fourteen Billion Years of Cosmic Evolution and The Search for Life in the Universe
"This book is a thrilling account of deep insights into life and its evolution, and will likely influence fundamental research in biology and environmental sciences."

—Zoltán Toroczkai, Associate Professor of Physics, University of Notre Dame
"Biological phenomena are usually viewed in terms of plants and animals. Margulis and Sagan look at them from their extremes: Gaia—the living system of the Earth as a whole—and bacteria. Both Gaia and bacteria dazzle the reader accustomed to conventional fare. It is re-viewing of this kind that paves the way for real advance in science."

—John B. Cobb, Jr., Professor Emeritus, Claremont School of Theology
"In Dazzle Gradually, Margulis and Sagan effectively tap into the cultural waveform through a series of original science essays and provocative ideas to reveal why we are living in an open social networked world, and why survival of the fittest no longer means fit to kill, but fitting in with the rest of life. Simply said, Darwin is left in the dust."

—Mary McGuinness, Co-Director, Sputnik Observatory
"Margulis and Sagan continue to dazzle—much like the natural world they are describing. This is a wonderful collection of essays that breaks down false barriers and challenges the reader to rethink the very concepts of life, self, and change. Among the false dualisms that the authors attack is the very nature of writing itself. Written in neither dense, technical-academic prose nor some mere watered-down, populist version of science, Margulis and Sagan maintain their reputation for being able to bring the best of both worlds together—and in so doing show us that the dichotomy is to no one's advantage. Indeed, in many ways Dazzle Gradually is their finest work, both in that it brings together some of the authors' greatest contributions to and speculations on science, and in that they seamlessly move from autobiography to nature, from the personal to the transpersonal, with subtle humor, clear examples, and revolutionary thinking. Dazzle Gradually not only eloquently states the queries but has the courage to offer arguments that point toward answers as well. It is a remarkable book. A book that might just make a move toward resolving some of the big questions: questions concerning the birth of life, the origin of sex, the rise of death, and everything in between. Even raccoons in space."

—H. Peter Steeves, Ph.D., Associate Professor of Philosophy at DePaul University, and author of The Things Themselves
"Enlightening, argumentative, and passionate reflections from a lifetime of debate about science, sex, and society. A fine personal summing up by mother and son—two of the finest creative thinkers and writers in the literature."

—Greg Bear
"Here is a certain slant of light, a profound exploration exposing false hierarchies and convenient dualisms and illuminating the continuities of biology, literature, physics, and philosophy. Margulis and Sagan make a dazzling team--their science allows us to glimpse, to begin to understand, a universe of unseen worlds."

—Joseph Coulson, author of The Vanishing Moon and Of Song and Water. Novelist, playwright, and coeditor of The Nature of Life: Readings in Biology.
"Dazzle Gradually is like an air-raid siren, calling for science to reinvent itself for the 21st century; to look beyond the categorization and characterization of things and the traditional view of nature into a highly networked and involved view. In particular, it advises us to descend from our throne of delusion and realize that humanity (with all its technological and cultural trappings), is intimately and inextricably immersed in this grand system along with the protoctists and bacteria, plants and animals, the living world that surrounds us. Our very identity—our minds and souls—are a result of the evolving experiment we call nature. Dazzle Gradually is like opening the door to a vast and brilliant garden, which slowly assimilates us as we become part of nature's teeming, humming, growing, and unendingly magical realm."

—Stephen Miles Uzzo, Ph.D., New York Hall of Science
"Deeply personal, humorous, and brilliant—reading Dazzle is like journeying into two of the most original and creative scientific minds of our time. Lynn Margulis and Dorion Sagan discuss their most revelatory and complex ideas in concise essays with accessible language, making this book a must-read primer to foraying their broad academic and intellectual interests."

—Alan Berger, Associate Professor of Landscape Architecture, Harvard University Graduate School of Design
"Brilliant and fascinating, Dazzle Gradually unrolls for us the scroll of life on earth. These essays show us the intricate complexities of microbes; an atmosphere that performs self-maintenance; our own minds. Margulis and Sagan do not blink at the big questions or hard answers, and their writing is lively, precise, entertaining, and provocative, their passion for science everywhere evident and persuasive. Anyone who has ever wondered where we came from, who we are, and where we may be headed will delight in this extraordinarily exciting book."

—Kelly Cherry, author of Hazard and Prospect: New and Selected Poems
"This is a ripsnorting intellectual barnstorm of a book, a sort of chimeric hybrid of mental genes from Dorion Sagan, his genius mother Lynn Margulis, and his dead father Carl Sagan—surely one of the smartest families on the planet. The result is a remarkably coherent and blazingly original proposal for the next grand narrative of our civilization (now that we have pretty much burned out the Cartesian one)."

—Frederick Turner, author of Natural Classicism and The Culture of Hope