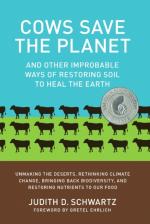 Like this book? Digg it!

Book Data
ISBN: 9781603584326
Year Added to Catalog: 2012
Book Format: Paperback
Dimensions: 6 x 9
Number of Pages: 240
Book Publisher: Chelsea Green
Release Date: April 24, 2013
Web Product ID: 725
Cows Save the Planet
And Other Improbable Ways of Restoring Soil to Heal the Earth
Foreword by Gretel Ehrlich
Praise
"Judith Schwartz takes a fascinating look at the world right beneath our feet. Cows Save the Planet is a surprising, informative, and ultimately hopeful book."

—Elizabeth Kolbert, author of Field Notes from a Catastrophe: Man, Nature, and Climate Change
"In Cows Save the Planet, Judith Schwartz takes us on a fascinating, John McPhee-style journey into the world of soil rehabilitation. The eclectic group of farmers, ranchers, researchers, and environmentalists she visits have one thing in common: they all believe in the importance of organic matter in the soil for solving our most pressing environmental issues. Some of the innovative techniques they use to increase the vitality of their soil include no-tillage, using deep-rooted perennial grasses, cover crops, mulching, and, surprisingly, grazing large herds of animals according to a program called "holistic management." Imagine, a book about soil that's a real page turner!"

—Larry Korn, editor of The One-Straw Revolution and Sowing Seeds in the Desert, by Masanobu Fukuoka
"Here's a secret climate-change activists and energy-efficiency and renewable-energy promoters neglect: Nature is designed to be self-healing, and her most profound 'tool' is photosynthesis. 'Free' sunlight is the best energy source to extract carbon dioxide from the atmosphere, while also producing organic matter and oxygen — and a by-product is healthier soil, forests, wetlands, and ecosystems. When politicians, policy leaders, and activists get serious about cost-effective solutions to climate change, then a top priority will be ecological restoration to harvest and store carbon naturally, and Judith Schwartz's new book will provide a destination and map."

—Will Raap, founder, Gardener's Supply and Intervale Center
"Judith Schwartz reminds us that sustainable range management is as much about the microbes in the soil and their feedback loops with cattle as it is about the cattle themselves. When I finally go home on the range to be composted, I want to be part of the miraculous cycle of rangeland renewal that is managed in the way that Schwartz describes so well."

—Gary Nabhan, author of Desert Terroir, Kellogg Endowed Chair in Sustainable Food Systems, University of Arizona
"Judith Schwartz's book gives us not just hope but also a sense that we humans—serial destroyers that we are—can actually turn the climate crisis around. This amazing book, wide-reaching in its research, offers nothing less than solutions for healing the planet."

—Gretel Ehrlich, from the foreword

US Orders Only.
International Orders: Click here.
Judith D. Schwartz's Upcoming Events
Judith Schwartz at The Chicago Council on Global Affairs' symposum


2014 Global Food Security Symposium, Washington, DC

May 22, 2014, 12:00 pm

Judith Schwartz at Cold Moon Farm


Cold Moon Farm, Jamaica VT

May 31, 2014, 12:00 pm

Judith Schwartz at the Governor's Institute of Vermont


Vermont Technical College, 124 Main St., Randolph VT

July 23, 2014, 1:00 pm

Judith Schwartz at The Savory Institute's International Conference


The Savory Institute International Conference, London

August 1, 2014, 12:00 pm

Judith Schwartz at Mother Earth News Fair in Seven Springs


Mother Earth News Fair, Seven Springs PA

September 12, 2014, 12:00 pm