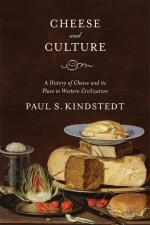 Like this book? Digg it!

Book Data
ISBN: 9781603585064
Year Added to Catalog: 2012
Book Format: Paperback
Book Art: B&W images
Dimensions: 6 x 9
Number of Pages: 272
Book Publisher: Chelsea Green
Release Date: December 22, 2012
Web Product ID: 743
Cheese and Culture
A History of Cheese and its place in Western Civilization
"Paul Kindstedt has fashioned a remarkable book about one of humankind's most distinctive foods. Drawing upon comprehensive evidence from archaeology to contemporary artisan cheese making, Dr. Kindstedt shapes the complex story of cheese. He examines the impact of geography and climate, religion, social status and wealth, transportation and commerce… to describe and explain the 8,500-year evolution of cheese from Neolithic humans to present-day America. From archaeologists and anthropologists and historians to cheesemakers and consumers who want to deepen their understanding and appreciation of cheese, Dr. Kindstedt's book will enlighten, entertain, and reveal the fascinating history and culture of cheese. Bravissimi e complimenti!"

—Jeffrey Roberts, New England Culinary Institute, and author of The Atlas of American Artisan Cheese
International Association of Culinary
Professionals Finalist
A comprehensive look at the 9,000-year history of cheese, the ways in which it has shaped civilization, and what it can tell us about the future of food.
Behind every traditional type of cheese there is a fascinating story. By examining the role of the cheesemaker throughout world history and by understanding a few basic principles of cheese science and technology, we can see how different cheeses have been shaped by and tailored to their surrounding environment, as well as defined by their social and cultural context. Cheese and Culture endeavors to advance our appreciation of cheese origins by viewing human history through the eyes of a cheese scientist.
There is also a larger story to be told, a grand narrative that binds all cheeses together into a single history that started with the discovery of cheese making and that is still unfolding to this day. This book reconstructs that 9000-year story based on the often fragmentary information that we have available. Cheese and Culture embarks on a journey that begins in the Neolithic Age and winds its way through the ensuing centuries to the present. This tour through cheese history intersects with some of the pivotal periods in human prehistory and ancient, classical, medieval, renaissance, and modern history that have shaped western civilization, for these periods also shaped the lives of cheesemakers and the diverse cheeses that they developed. The book offers a useful lens through which to view our twenty-first century attitudes toward cheese that we have inherited from our past, and our attitudes about the food system more broadly.
This refreshingly original book will appeal to anyone who loves history, food, and especially good cheese.