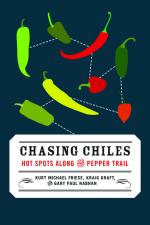 Like this book? Digg it!

Book Data
ISBN: 9781603582506
Year Added to Catalog: 2011
Book Format: Paperback
Dimensions: 6 x 9
Number of Pages: 224
Book Publisher: Chelsea Green
Release Date: March 4, 2011
Web Product ID: 601
Chasing Chiles
Hot Spots Along the Pepper Trail
Praise
"All food has a story behind it—a story about people, culture, land, ecology, and economy. Chasing Chiles looks at the stories behind 6 chile pepper varieties, and the land, culture, food traditions, and farmers that, together, make their existence possible, and the changing climate that threatens all. But this isn't just about vulnerability; it is a book about the hope and resilience we create when we eat food with a story that makes us proud."

—Josh Viertel, President, Slow Food USA
"Chasing Chiles is nothing short of a brilliant ethno-bio-culinary convergence. It accomplishes what so very few books do; marrying place to flavor and science, the result is a visceral understanding of the profound impact climate change has on the global community and the foods that we always seem to take for granted. Kurt Friese, Kraig Kraft, and Gary Nabhan have produced a must-read classic for all time."

—Elissa Altman, Founder of PoorMansFeast.com
"This book will fascinate not only chile aficionados, but also those students of biodiversity who are alarmed at the disastrous effect that climate change is wreaking on our food crops in general. With this book in hand, I happily climbed aboard the authors' Spice Ship to embark on their personal odyssey, and saw up close the devastating effects of climate change on the environment, farmers, and their crops whose very existence is at stake."

—Diana Kennedy, author of The Essential Cuisines of Mexico and The Art of Mexican Cooking
"How can our hemisphere's 'spice of life' be ignored after reading Chasing Chiles? I mean, what will there be to live for?"

—Wes Jackson, President, The Land Institute
"The noble chile—and its equally noble growers—illustrates the key principle we need for a world stressed by an ever-more-fickle climate: resilience. This book will make you understand the situation far better than most dry tomes on the subject."

—Bill McKibben, author of Eaarth, Founder of 350.org
"A treasure trove of chile lore and a wake-up call to everyone who cares about real food, Chasing Chiles will amuse and alarm you. These three gastronauts carry a wealth of culinary and botanical knowledge, and their journeys in their Spice Ship uncover an incredibly diverse world of chiles that is changing with breathtaking speed. Stop worrying about the impact of climate change on future harvests; cross your fingers for this year's instead."

—Rowan Jacobsen, author of American Terroir and Fruitless Fall: The Collapse of the Honey Bee and the Coming Agricultural Crisis
"An instant classic of chile pepper lore, Chasing Chiles is the best social history of chiles since Amal Naj's Peppers from 1992. In fact, I think it's better—because it's not just journalism; it has fascinating science and entertaining humor as well. Highly recommended!"

—Dave DeWitt, "The Pope of Peppers" and coauthor of The Complete Chile Pepper Book
"Chasing Chiles makes you feel like you are riding shotgun on Gary, Kraig and Kurt's Spice Ship! This book is an agri-culinary-eco-botanical odyssey that brings some of the most important issues about food, eating, and the impact of climate change to the fore in a way that is both engaging and compelling. A truly pleasurable read for anyone who appreciates authentic flavors and the pleasures of the table—and of course, the wisdom of our farmers. Practical principles we can all 'swallow' is the guiding light here."

—Tracey Ryder, Co-founder and CEO, Edible Communities
"Chasing Chiles is truly one of the most inspiring and unique treatments of climate change in current literature. The book provides us with an entirely fresh and critical perspective on this contentious issue directly from farmers and chefs, focusing on one particular crop. And the proposed solution to this complex problem is both plain and prudent: "Eat and farm as if the earth matters, as we should have been doing all along."

—Frederick Kirschenmann, Distinguished Fellow, Leopold Center for Sustainable Agriculture, and President of Stone Barns Center for Food and Agriculture

US Orders Only.
International Orders: Click here.
Additional Information
Gary Paul Nabhan's Upcoming Events
Gary Paul Nabhan at the Petaluma Seed Bank


199 Petaluma Blvd N, Petaluma CA

April 23, 2014, 7:00 pm

Gary Paul Nabhan at UC Davis


One Shields Avenue, Davis CA

April 24, 2014, 5:30 pm

Gary Paul Nabhan at Point Reyes Books


11445 California 1, Point Reyes Station CA

April 25, 2014, 7:00 pm

Gary Paul Nabhan at Agrarian Trust Symposium


David Bower Center, 2150 Allston Way, Berkeley CA

April 27, 2014, 12:00 pm

Gary Paul Nabhan at Portland State University


1241 NW Johnson St, Portland OR

May 5, 2014, 7:30 pm