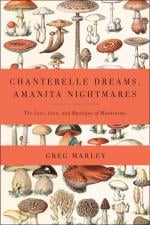 Like this book? Digg it!

Book Data
ISBN: 9781603582148
Year Added to Catalog: 2009
Book Format: Paperback
Book Art: Color Photos
Dimensions: 6 x 9
Number of Pages: 288
Book Publisher: Chelsea Green Publishing
Release Date: August 31, 2010
Web Product ID: 500
Also in Food & Health
Chanterelle Dreams, Amanita Nightmares
The Love, Lore, and Mystique of Mushrooms
Praise
Mushroom lovers who can only get their fix by sampling the often paltry array that appears in their grocers produce section may be sorely tempted to indulge their mycophilia when they encounter some choice fungi in the wild. Unlike many Asian and European cultures, however, most Americans are hesitant to just pluck one off the forest floor and eat it on the spot. Perhaps such evocative names as the Death Cap mushroom has something to do with this mycophobia. Yet, says Marley, armed with proper background, this culinary caution can turn into complete confidence. From the fabled psychedelic magic mushrooms to the duplicitous appearance of false morels, Marley examines these fungal fiends and provides thorough descriptions of their habitat, appearance, and toxic properties to ward off potential misadventures. An avowed mycophile, Marley offers an entertaining and inquisitive look at both the heroes and villains of the kingdom Fungi in an enlightened guide that comprehensively examines their nutritional benefits, undesirable properties, and diverse cultural history.

—Booklist
"By following a few basic guidelines, readers interested in foraging for their food will find themselves with a wealth of culinary opportunities courtesy of longtime amateur mycologist Marley (Mushrooms for Health). An enthusiastic guide, Marley introduces foragers to the most common wild edible shrooms<—>morels, puffballs, chicken mushrooms, and shaggy mane<—>as well as their more recognizable cousins in the market, such as chanterelles. Basic recipes for preparation (risottos, simple pastas, and the like) are included, enabling readers to get the most from their bounty. But Marley spends equal time with their more toxic and psychedelic brethren, describing key characteristics, common regions, and potential side effects, ensuring that initiates spend more time in the woods than the ER. While the book does have a set of color slides to aid in identification of edible and poisonous varieties, the sample pales in comparison to the many species Marley mentions."

—Publishers Weekly
"This book is an enticing invitation into the fungal realm, accessible and a pleasure to read. Author Greg Marley's enthusiasm is infectious, as he encourages an appreciation of fungi as essential ecological partners, and empowers readers with practical tools. These pages are filled with foraging and cultivation tips, scientific explanations, ancient lore, literary references, and entertaining stories, with the mission of transforming mycophobia into mycophilia."

—Sandor Ellix Katz, Author of Wild Fermentation and The Revolution Will Not be Microwaved

US Orders Only.
International Orders: Click here.
Additional Information
Greg Marley's Upcoming Events
Greg Marley at NOFA MA Winter Conference


Worcester State University, Worcester MA

January 11, 2014, 12:00 pm

Greg Marley at NOFA VT Winter Conference


Davis Center, University of Vermont, Burlington VT

February 15, 2014, 12:00 pm