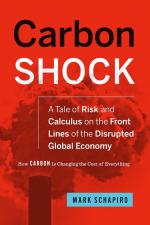 Like this book? Digg it!

Book Data
ISBN: 9781603585576
Year Added to Catalog: 2014
Book Format: Hardcover
Dimensions: 6 x 9
Number of Pages: 240
Book Publisher: Chelsea Green
Release Date: August 8, 2014
Web Product ID: 814
Carbon Shock
A Tale of Risk and Calculus on the Front Lines of the Disrupted Global Economy
Praise
"With his skill as a writer and long experience as an investigative reporter, Mark Schapiro brings alive some unexpected angles of the most important story of our time. I thought I knew the basics of carbon and climate change, but reading this lively and intriguing book made me aware of much I didn't know—both fascinating and disturbing."

—Adam Hochschild, Author of To End All Wars
"In his powerful new book Carbon Shock, Mark Schapiro transcends standard discussions about the well-known culprits and ramifications of climate change and takes us on a harrowing, international exploration of the universal economic costs of carbon emissions. In his path-breaking treatise, Schapiro exposes the multinational corporate obfuscation of these costs; the folly of localized pseudo-solutions that spur Wall Street trading but don't quantify financial costs or public risks, solve core problems, or provide socially cheaper and environmentally sounder practices; and the laggard policies of the US, Russia and China relative to the EU in fashioning longer-term remedies. Not only does Schapiro compel the case for a global effort to thwart the joint economic and environmental plundering of our planet in this formidable book, but he expertly outlines the way to get there."

—Nomi Prins, author of All the Presidents' Bankers and It Takes a Pillage
"Can keepers of the fossil flames ever be persuaded that we're all imperiled if we don't de-carbonize? Is it delusional to imagine building monetary bridges to a cleaner future, so that civilization—at least the civil parts of it, including everyone's job—might survive if we did? Is any government actually still in charge, as we face what's surely humanity's greatest challenge? We can be grateful that Mark Schapiro has navigated some dreaded territory—the arcana of global finance—to show with blessed clarity exactly where we are so far, what's failed and why, what might work, and where surprising hope lies."

—Alan Weisman, author of Gaviotas, The World Without Us, and Countdown: Our Last, Best Hope for a Future on Earth?