Bayberry & Beau is an original tale inspired by a real horse and cat who became mysteriously attached to one another.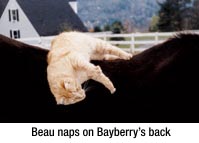 Beau is very unhappy in his new life as a barn cat. He longs to be Miki's pet again, playing with him all day and sleeping on the bottom of his bed every night.
Sadly, when Miki became allergic to him, Beau was sent to live on Cloudland Farm with Miki's Uncle Jake and Aunt Ruby.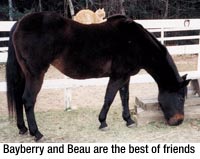 Soon, Beau is in big trouble with bossy Aunt Ruby. Born to be a pet, not a hunter, he sleeps and dreams in the barn's loft instead of catching mice.
Beau feels very sorry for himself until the day Bayberry comes to live on Cloudland Farm. The old bay quarterhorse doesn't want to be there either. Her mournful whinnying when her owners leave her alone in her stall awakens Beau.
Peering down on the drooping horse, Beau remembers the way he felt the day Miki and his mom left him alone in the stable.
Beau runs from the loft, hops on Bayberry's stall door, and introduces himself.
This is their story.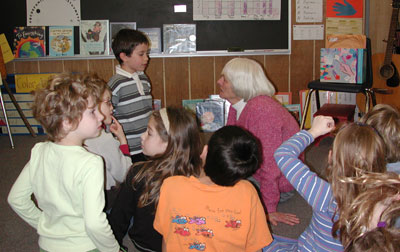 Nita talking with first grade students at the Rays School in Hanover, NH.