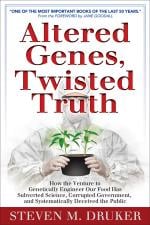 Like this book? Digg it!

Book Data
ISBN: 9780985616908
Year Added to Catalog: 2014
Book Format: Paperback
Book Art: B&W Illustrations
Dimensions: 6 x 9
Number of Pages: 496
Release Date: January 26, 2015
Web Product ID: 712
Also in Food & Health
Altered Genes, Twisted Truth
How the Venture to Genetically Engineer Our Food Has Subverted Science, Corrupted Government, and Systematically Deceived the Public
Praise
"Without doubt, one of the most important books of the last 50 years."

—Jane Goodall, Ph.D., DBE and UN Messenger of Peace
"A fascinating book: highly informative, eminently readable, and most enjoyable. It's a real page-turner and an eye-opener."

—Richard C. Jennings, Ph.D., Department of History and Philosophy of Science, University of Cambridge, UK
"This incisive and insightful book is truly outstanding. It's well-reasoned and scientifically solid, and it dispels the cloud of disinformation that has misled people into believing that GE foods have been adequately tested and do not entail abnormal risk. It's a must-read—and a pleasure to read."

—David Schubert, Ph.D., molecular biologist and Head of Cellular Neurobiology, Salk Institute for Biological Studies
"Altered Genes, Twisted Truth is lucid, illuminating, and alarming. As a former New York City prosecutor, I was shocked to discover how the FDA illegally exempted GE foods from the rigorous testing mandated by federal statute. And as the mother of three young kids, I was outraged to learn how America's children are being callously exposed to experimental foods that were deemed abnormally risky by the FDA's own experts."

—Tara-Cook Littman, J.D.
"Altered Genes, Twisted Truth is very readable, thorough, logical and thought-provoking. Steven Druker exposes shenanigans employed to promote genetic engineering that will surprise even those who have followed the ag-biotech industry closely for years. I strongly recommend his book."

—Belinda Martineau, Ph.D., a co-developer of the first genetically engineered whole food and author of First Fruit: The Creation of the Flavr Savr™ Tomato and the Birth of Biotech Foods
"Druker's brilliant exposé catches the promoters of GE food red-handed: falsifying data, corrupting regulators, lying to Congress. He thoroughly demonstrates how distortions and deceptions have been piled one on top of another, year after year, producing a global industry that teeters on a foundation of fraud and denial. This book is sure to send shock waves around the world."

—Jeffrey M. Smith, international bestselling author of Seeds of Deception & Genetic Roulette