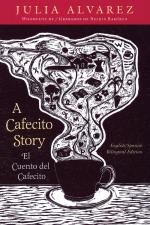 Like this book? Digg it!

Book Data
ISBN: 9781931498067
Year Added to Catalog: 2002
Book Format: Paperback - Bilingual
Book Art: woodcuts, resources
Number of Pages: 6 x 9, 80 pages
Book Publisher: Chelsea Green Publishing
Old ISBN: 1931498067
Release Date: May 1, 2002
Web Product ID: 27
A Cafecito Story
El Cuento del Cafecito (Bilingual Edition)
Excerpt
Afterword by Bill Eichner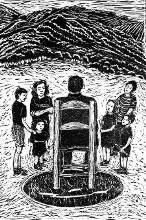 My wife Julia and I are not the man and the woman in the story, but our story is related to this parable. We do own a farm-foundation in the mountains of the Dominican Republic with caretakers, Miguel and Carmen, who live there with their children.
I am from farm stock in Nebraska. I grew up with a "bad cup of coffee." In the 1950s on the central plains, coffee was brewed from inferior beans, a brownish liquid so thin as to be sour and transparent. No doubt this custom of weak coffee was born out of the frugal nature of prairie farmers.

Julia is a writer who began publishing later in life. She grew up in the Dominican Republic, drinking cafecitos diluted with lots of milk--the strong brew was reserved for adults only. Six years ago the Nature Conservancy asked her to do a story on one of their protected sites in the mountains of the Dominican Republic.

While there, we were shocked by the "green desert" of the surrounding modern coffee farms. By the uniformity of the monoculture--hillside after hillside without a single fruit or shade tree. No sign of life except coffee plants and a single masked worker walking down the rows in a cloud of chemicals he was spraying on the coffee. I had not realized that the same kind of technification that had eliminated sea gulls and family farms in Nebraska was now doing a job on traditional shade-coffee farms in the tropics. Julia and I saw firsthand how globalization was changing the campo, or countryside, that we had both known as youngsters.

But there was hope. We met a group of farmers trying to organize themselves around growing and finding markets for their organic, shade-grown coffee. We sensed that they were battling an agribusiness trend toward growing coffee in full sun, for better short-term yields, while deforesting the mountains and poisoning the rivers with pesticides and chemical fertilizers.

We praised their efforts. They asked, would we like to join their struggle and buy some land before it was grabbed up by the big technified coffee plantations? Julia and I looked at each other--was it the mountain air, or our love for each other and for the idea of "giving something back"?--and said, why not?

When we accepted the invitation, we thought it would be a lark--develop five acres, raise a few bags of coffee to take home to our friends in Vermont, and sit in the kiosko with our campesino neighbors to discuss their plans. Maybe we could even build a little arts center on the farm, where our artist friends could come visit and share their talents with the neighbors.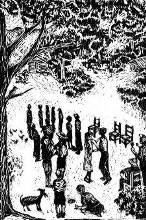 As we became part of that mountain community, our goals changed. Our insights broadened with each step. We felt we should do more than grow coffee as a hobby. Why not model the process our neighbors were striving for? Our organic farm grew to 260 acres. We started planting heirloom varieties of coffee, and while the coffee seeds were germinating, we planted shade trees: a mixture of timber species that offered food for wild birds; fruit, nut, and avocado trees that provided food for us and the farm workers; legume species that added nitrogen to the depleted soil; and fast-growing trees that were pruned to provide forage for the milk goats and firewood for the fogón, or clay cookstove. Forest trees sheltered the tender coffee plants from the strong midday sun, dropping leaves to feed insects and worms that returned to the soil as it deepened and softened. The leaves caught the raindrops so they fell more softly on the earth, absorbing that rain in their root systems so that precious water did not rush down the hillside.

We also wanted to broaden our neighbors' concept of sustainability. Why should a farmer concentrate on acres and acres of coffee as an export commodity and meanwhile go down to the bodega to buy tomato paste? Why not grow tomatoes? Why not have chickens and goats and use the manure to fertilize the coffee plants, or plant citrus for shade and use the fruits for consumption and for sale at the local markets? Why not have a community garden and grow vegetables for the farm and the village? Why not start a composting system? Collect rainwater? Use solar panels rather than bring expensive electricity up into the mountains?

Our farm was transformed into a working school in which we all began to learn how to take care of the land and pass it on in good condition to the next generation.

From the start, our cash crop was shaded coffee as it has been traditionally grown in the area. But as we became more involved, we discovered that the coffee business is based on a culture of poverty where very little of the profit trickles down to the small farmer. In order to bring some of those profits home to the growers, the farms in our cooperativo pooled all our coffees together under the umbrella of CAFÉ ALTA GRACIA. We chose this name to honor the country's patron saint and protector, la Virgencita de la Altagracia, the Madonna of "high grace." We needed her blessing to help us aim high and to sustain us in the fight against the inequities of the coffee industry and the destruction of forests in coffee-growing lands.

As we worked to nurture the impoverished land, we could not ignore the human nature around us. The campesinos were living a life of poverty, and the most striking aspect of that poverty was that none of them could read or write.

We struggled with how to practice sustainability among those who lived and worked at the farm and in the community. We understood that our original idea of coffee sales supporting an arts center would be a kind of cultural imperialism until our workers and neighbors and their families could read and write for themselves. Only then would they have the key to unlock that treasure that belongs to all of us, the arts and literature of the human tribe.

Now a school building is at the center of the Alta Gracia farm. A volunteer teacher has joined the community. Kids and their parents are learning their ABCs. A youth group came from Wellesley, Massachusetts, and built a small library. We call it a barra biblioteca, modeled after a popular Dominican structure, the little barra at the side of the road where campesinos can get a cerveza Presidente, or a shot of rum. But our barra stocks books instead of drinks.

After five years, Alta Gracia has already been blessed with visible change. Organic matter is building up under the fruiting trees, rainfall is soaking in more slowly, the insects are returning, the arroyos keep running a little longer each spring, and the songbirds come back every year to sing over the coffee. We look around the hills, and the green comes in varying hues and heights--from arugula in the garden or clover between the coffee rows to banana plants offer our heads and cedro trees towering above all.

And books are arriving to fill the library. In time, we will also invite artists to come and contribute some of their time to giving workshops at the school or working on the farm. Total recycling. Wide-ranging sustainability. Taking care of each other through education as well as by what we put in the soil.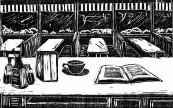 When I left my parents' farm as a young man, I never imagined I would return to farming later in life in a place so far from the center of the U.S.A. To farm on steep mountains instead of endless plains? To harvest crops in January rather than endure blizzards? To grow coffee instead of soybeans? And especially to enjoy a coffee that Nebraskans couldn't even dream of? In contrast to the family of my childhood, our poor and frugal Dominican family would never skimp on the "strength" of their coffee. They simply drink a smaller cup, yet rich enough to leave stains on the bottom and sides. I'm with them. I'll take two ounces of quality offer a whole pot of bad coffee any day.

The tradition among the old campesinos is to turn their little cups over when they are finished. The future can be told from the dried stains left in the cup. Julia tells me that when she was a child, an old woman would go from house to house reading cups. If her fortune sounded good, Julia would close her eyes and wish that it would come true.

We have a wish: that others can enjoy the experience of our project and share in the dream and the effort of sustainability. Anyone can begin by planting a tree, or a hundred trees--the birds and your grandchildren will thank you. You can recycle and reuse until it becomes a habit that you teach others. You can buy and drink Café Alta Gracia along with other products offered by companies with a conscience. Remember, sustainability is not just a concept but a way of life whose time has come.

And whenever you drink coffee, remember this cafecito story. The future does depend on each cup, on each small choice we make.