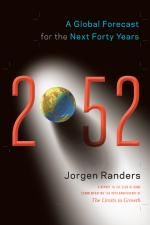 Like this book? Digg it!

Book Data
ISBN: 9781603584678
Year Added to Catalog: 2012
Book Format: Hardcover
Book Art: B&W images
Dimensions: 6 x 9
Number of Pages: 416
Book Publisher: Chelsea Green
Release Date: May 30, 2012
Web Product ID: 710
2052
A Global Forecast for the Next Forty Years
Reviews, Interviews, & Articles
Reviews
Choice (ALA) Review: In commemoration of the 40th anniversary of Limits to Growth, Randers (climate strategy, BI Norwegian Business School) forecasts the changes in population, consumption, energy use, emissions, quality of life, and climate over the next 40 years. As one of the original contributors to Limits to Growth, the author's current forecast is based on the "overshoot and collapse" scenario. Regional scenarios highlight the distribution of benefits and costs from climate change across the globe, underscoring the distinct consequences on the developed and developing world. The author emphasizes that shortsighted decision making associated with democracy is ill suited to handle climate change, given its long-term outcomes. A novel feature of this work is the inclusion of predictions from more than two dozen experts working in ecology, political science, industry, and economics. These individual contributions are woven into the larger story to provide comparison with the author's predictions. Overall, this work is accessible to a general audience; however, Randers's limited analysis and justification of model assumption restrict the usefulness of this book as a stand-alone text. It could be useful in conjunction with some formal texts on globalization, economics, and the environment. Summing Up: Optional. General readers and undergraduate students.
Interviews Articles

US Orders Only.
International Orders: Click here.
Additional Information
Jorgen Randers's Upcoming Events
Jorgen Randers at BI-Nydalen


, Oslo, Norway

May 23, 2013, 12:00 pm

Jorgen Randers at the Global Green Growth Institute


, Seoul South Korea

June 10, 2013, 12:00 pm

Jorgen Randers at Nikkei Business Publications, Inc.


, Tokyo Japan

June 12, 2013, 12:00 pm

Jorgen Randers at Nutreco N.V.


, den Haag, Netherlands

June 18, 2013, 12:00 pm

Jorgen Randers at System Dynamics Society


, Boston Mass

July 22, 2013, 12:00 pm