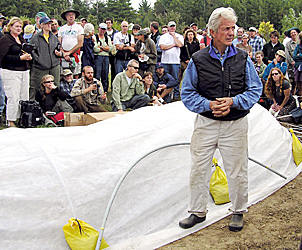 It may seem counterintuitive, but now is the perfect time to be thinking about next winter's harvest. How can you time your plantings this summer and fall so your broccoli and cabbage are big enough to survive the winter and get cranking as early as possible the following spring? What kinds of vegetables can you expect to last through the cold season, and into the 'hungry gap'? In this post, we share a couple of excellent resources on the kind of year-round vegetable production a dedicated homesteader, or anyone attempting to bring food closer to home will want to try.
Eliot Coleman was one of the first authors we published, and his book The New Organic Grower helped set Chelsea Green on the path to becoming the leading publisher of books on sustainable agriculture.
Coleman runs Four Season Farm up in Harborside, Maine — a very chilly place to make a living growing salad. But that's exactly what he does, and his two most recent books are full of information on how to keep tender, tasty veggies growing throughout the dark and cold of winter. Chances are, you live in a climate several hardiness zones more hospitable than Coleman, so we're here to tell you that when it comes to growing fresh food year-round, sorry, you have no excuses! Or at least, with advice from this master-farmer, winter will no longer be one of them.
Coleman was by no means the first to implement the winter-gardening strategies he has helped make famous. In this excerpt from The Winter Harvest Handbook, he points to the inspiring example of Parisian farmers 150 years ago, who grew vegetables under glass cloches for city markets.
"La culture maraîchère (market gardening) in Paris during the second half of the nineteenth century was the impressive result of years of improvement in both protected and outdoor vegetable production…In addition to feeding the inhabitants of Paris, the growers also exported vegetables to England. Growers averaged at least four and usually up to eight harvests per year from the same piece of ground. It was a successful system both practically and economically."
Read more about these enterprising French farmers here. And take a peek inside The Winter Harvest Handbook, here. All three of Coleman's classic organic farming books are now available as a convenient set, which you can purchase in our bookstore.
Over in the United Kingdom, another farmer-author is busily tackling the challenges of winter gardening. Charles Dowding is the author of many gardening books, including How to Grow Winter Vegetables.
In this beautifully illustrated volume Dowding explains step-by-step how to grow, and more importantly, how to plan, for plentiful harvests during the "winter half" of the year.
"True winter is underway by December, when growth is almost halted, and continues until March or even April, by which time daylight and some early warmth have returned, although there are still very few fresh vegetables to eat. Then, in April, May, and even into June in a cold spring, there can be a long and frustrating wait for plants to grow and mature. Although the weather may be fine and warm, there is surprisingly little to eat from the garden, in a period known as the 'hungry gap' — a kind of 'second winter' in food terms."
Read more from Dowding's book, here.
And happy gardening!
---