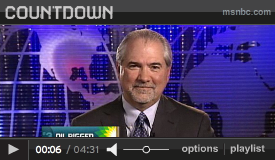 Bob Cavnar, author of the upcoming
Disaster on the Horizon
– the first book on the Gulf Oil Spill – discusses the integrity of the wellhead and the status of BP's efforts to stop it from leaking oil in the Gulf.
Cavnar is a 30-year veteran of the oil and gas industry with a deep technical understanding of oil rigs and safety protocol, as well as the corporate culture and decisions that lead to the disaster. His book will be published in October and is
available for pre-order here
.
---