Across the nation, farmers are returning to an age-old technology that's at the cutting edge of sustainable agriculture: horse-power.
Why? Simple. It's better for the land, and better for the soul.
Author of The New Horse-Powered Farm [1] Stephen Leslie, says it best in his The New York Times profile: "From an ecological standpoint, it's just so clean, versus burning fossil fuel, and the compaction you get with a tractor," he said. "But on that other level, there is just this unending learning curve that keeps you engaged. It's a window into an instinctual world that is also entirely present. When I'm with the horses they are entirely present to me and to the task at hand. 'Here we are, this is it, this is what we're doing.' And if I'm not grounded, things go off in the wrong direction."
Last month, while Leslie was just getting started with spring chores, Anne Raver of
The New York Times
[2]
paid him a visit. Make sure to see Leslie and his
Fjord's in action in the NYT's slideshow.
[3]
~~
~~
~~
~~
By ANNE RAVER Photo Credit: Stacey Cramp for The New York Times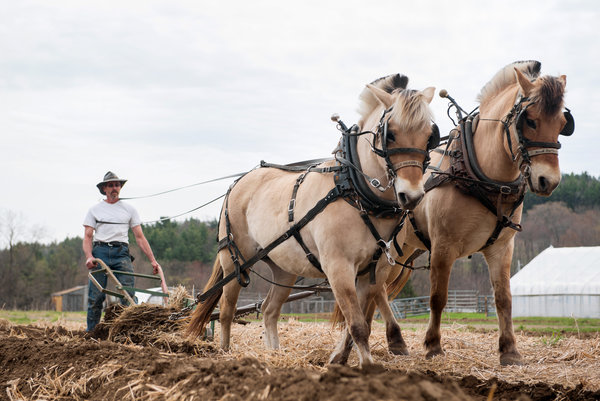 HARTLAND, Vt. — It was a perfect day for plowing, a little overcast with a cool breeze. You could hear the sound of the birds, the chink-chink-chink of the harness. Stephen Leslie, an artist and former Benedictine monk, guided two Norwegian Fjords down the field. The walking moldboard plow, a 300-pound curving steel blade, cut through the soil and sent it curling over itself in dark, crumbly waves. He stepped quickly, leaning back into the lines he kept looped around his shoulders so his hands were free to guide the plow. "Stay haw, stay haw," Mr. Leslie said in a low, calm voice, reminding the dun-colored horses to bear right as they neared the end of the field. Full grown at 14 hands high and 950 pounds, these powerful animals can be dangerous if they are startled. But compared with Clydesdales or Percherons, which are twice as big and can weigh as much as 2,500 pounds, they look like big, muscular ponies. "Gee now, gee," he said, urging them left as they stepped onto the unplowed grass at the edge of the field. "Easy now, easy." Farming with horses is a complicated dance in which timing is all. But Cassima, 19, and Tristan, 14, have been with Mr. Leslie for most of their lives (Fjords can live as long as three decades), so years of trust bind them. And theirs is a breed that wants to work. "These guys are really easygoing compared to a thoroughbred, or even a Morgan horse," he said. "But they're lively, and they can be willful." Mr. Leslie, 52, and his wife, Kerry Gawalt, 38, use a tractor to haul manure and do other heavy jobs here on Cedar Mountain Farm. But when it comes to working the land, they use four Norwegian Fjords. Their farm is one of some 400,000 operations in North American that use draft horses in some capacity, estimates Lynn Miller, the editor of the Small Farmer's Journal, in Sisters, Ore., who has farmed with horses for more than 40 years. After World War II, when farmers traded in tens of millions of horses for tractors — "There was no place for the horses except the glue factory," Mr. Miller said — the use of draft horses plummeted. By the 1970s, some of the breeds that had been the most popular were down to the thousands. But "since then, the number of work horses and draft mules has steadily climbed," said Mr. Miller, who has written more than a dozen books on the subject. "People are attracted to the way of working with animals, of being back in touch with nature, of regaining a kind of rhythmic elegance to our lives."
Keep reading…
[2]