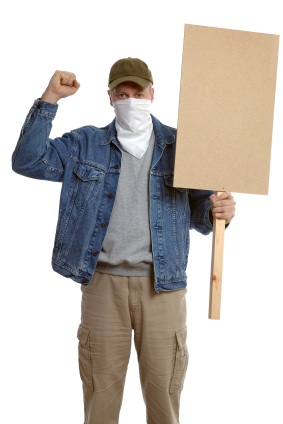 Looks like Big Organic spilled the milk. This week a group of organic farmers is calling for a nationwide boycott of all H.P. Hood branded products because of what they're calling "unfair business practices." This includes organic companies—Hood products include some names you might not expect: Horizon and Stonyfield Organic Milk. Looks like even organic large companies don't transcend all "evils" of business. These companies (in many cases) get their product by contracting out small farmers in a variety of states to produce milk — as does Organic Valley, a farmer-owned cooperative of more than 1,300 family farmers nationwide, and another company being boycotted by small farmers (see article below). Many small farms invest a lot of money to
convert to organic
in order that they fulfill the qualifications of their parent company, and get a contract. In the new film Food, Inc., for example, Stonyfield Farm CEO
Gary Hirshberg
is depicted visiting one of these family farms (his Wal Mart friends in his stead) getting closer to the root and essence of his product. Well. According to The Organic Consumers' Association (via the Bangor Daily News), the essence of his product–the farmers—are not happy:
DEXTER, Maine – A group of organic farmers representing three different producers is calling for a nationwide boycott of all H.P. Hood branded products and Stonyfield Organic Milk, also produced by Hood, because of what they term unfair business practices. In February, Hood told eight Maine organic dairy farmers in Aroostook and Washington counties that their milk contracts would not be renewed. This spring the company gave two more farmers, one in Dexter and one in Clinton, the same message. "Let it start here, in Maine," dairy farmer Mark McKusick said Friday at his farm in Dexter. "We are calling on all farmers and consumers in other states to join us." McKusick said that at a recent meeting of the Maine Organic Milk Producers, a straw vote showed a majority of Maine producers support the boycott. "They represented farmers supplying milk to Horizon, Organic Valley, Hood and Stonyfield," he said. "If enough farmers and consumers stick together it will have an effect," Martin Lane of Shady Lane Farms in New Vineyard said. The movement comes just weeks before the first of the Maine organic dairy farmers' contracts expires on Aug. 1. McKusick and Richard Lary, a Clinton organic dairy farmer, also were dropped by the company after they publicly criticized Hood. "They promised us the moon and then bailed on us," said Cheryl McKusick, Mark McKusick's wife. "When I asked Hood to meet with the producers, [a Hood official] told me I was confused. I feel Stonyfield is more concerned with cows passing gas than the farmers that supply them."
To read the entire article,
click here
. UPDATE AND CORRECTIONS: HP Hood does not own Organic Valley products, according to their spokespeople who responded to this article. See their
website
. We're sorry and send apologies about this mistake–this was misprinted in the original sources used above, apparently. For more information on this issue, see
this article
at Hobby Farms.com.
---