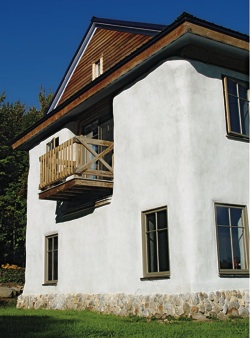 Julie Lineberger and Joseph Cincotta of
LineSync Architecture
designed their home with straw-bale, plaster, and a little bit of Yankee ingenuity. Taking advantage of
passive solar design
principles, and meeting their electricity needs with solar power, wind, and propane tanks for backup, they were able to take their southern Vermont house off the grid.
In "The Three Little Pigs," the big, bad wolf huffs and puffs and easily blows down the first piglet's straw house. But with rising energy costs playing the wolf at the door, don't dismiss straw houses too quickly. In southern Vermont, Dale and Michele Doucette and their two sons enjoy a large, comfortable home made of straw bales stacked to surround a post-and-beam frame like a blanket. "Straw walls typically have an R factor ranging from 30 to 50—and if you factor in 'air tightness,' they can save energy on the order of an R-70 fiberglass wall," says architect Joseph Cincotta, M.Arch. '88, who designed the Vermont straw-bale house and even helped sheathe the straw in two layers of plaster. "The typical wooden-stud wall has an R factor of about 12." (R factor is an index of an insulating material's resistance to heat transfer.) The energy efficiency of the Doucettes' straw-bale house has enabled them to leave the power grid behind; they meet their needs with solar and wind power, backed up by propane tanks. Straw has other advantages: it contains a natural fire retardant, for example, making it less flammable than wood. "It's really hard to light a bale of straw," Cincotta explains. Yet straw, like wood, is subject to damage by moisture—rot. So Cincotta took pains to keep rain water off the walls, widening the typical 12- to 18-inch roof overhang to 36 inches. "Sun and rain wear buildings down," he says, "so good overhang is always good practice." Nor did they put straw directly on the concrete foundations, he says. "The first 16 inches of wall are completely waterproof—concrete and foam—raindrops splash up well below the first bale of straw." Finally, they took care to ensure that window sills and door openings would not trap water, and that any water that did somehow enter the walls would not remain there, using lime plaster—an old type used in the 1800s—both inside and outside the stacks of straw. "Lime plaster has more clay in it than cement plaster, so it is more porous," Cincotta explains. "Moisture travels to dryness like heat to cold, so plaster that breathes allows wet straw to dry out." Furthermore, the fact that straw bales aren't perfect cubes influenced the design. "I was inspired by the straw to try things I wouldn't do in a wood home," Cincotta says. The front door, for example, is arched. Cutting wooden arches, forming them, and bending sheetrock are expensive and time-consuming tasks, but arches are far easier to build with straw bales, whose shape is flexible, not rigid. And arches "tend to be a welcoming gesture," Cincotta says. Influenced by the softer curves of straw bales, he also used curved lines on an outdoor deck and a soapstone kitchen countertop. Even the home's plastered walls are not perfectly even and flat. "We embraced the handmade feel of that," says the architect. "Those walls have character, and give a sense of soul to the place."
Read the whole article here.
---