The philosophy of Slow Food is a simple one: where our food comes from and how it is grown matters. We need to capture what we have lost when we industrialized our food supply – fresh, unadulterated, minimally processed, and locally produced food. We can invigorate local economies and renew the soil (and eat great food in the process).
We've got a wonderful crop of books to help you dive in and take the next step toward transitioning to a more local, resilient, self-sufficient economy by buying food that is grown and sold locally, using small-scale or organic methods.
Food is at the heart of our struggle to save the planet. Whether you want to get your hands in the dirt; or looking to find the best local cheese, wine, food; find the best new recipe using local food or preserving those veggies, we have the book for you. Here at Chelsea Green we strive to produce books that will be a lasting resource. The titles below are foundation books that will be trusted references on your bookshelf for years to come.
Happy reading from the folks at Chelsea Green Publishing. P.S. Don't forget to check out our full list of books on sale here: http://www.chelseagreen.com/bookstore/sale/
Slow Wine: A Year in the Life of Italy's Vineyards and Wines
Slow Wine adopts a new approach to wine criticism and looks beyond what is in the glass. A wine cannot be judged by scores, symbols or other numerical evaluations, but needs to be assessed in a broader context. The guide centres round the agronomical efforts of cellars, describing vines planted, vineyards tended and the philosophy underpinning the work of winemakers.
Three sections describe the cellars in their entirety: Life, the stories of the leading players in the world of winemaking; Vines, profiles of vineyards according to their characteristics and the way they are managed; and Wines, straightforward descriptions backed up by comprehensive statistics.
"We are the only wine guide that visits each winery, so the information is first-hand," said editor Giancarlo Gariglio of the 200-person staff it takes to put the guide together each year. "We visit the vineyard, the cellar, and taste with the producer."
Cheese and Culture: A History of Cheese and its place in Western Civilization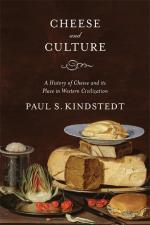 Coming Soon!
Available for Pre-Order
A comprehensive look at the 9,000-year history of cheese, the ways in which it has shaped civilization, and what it can tell us about the future of food. Cheese and Culture endeavors to advance our appreciation of cheese origins by viewing human history through the eyes of a cheese scientist.
This tour through cheese history offers a useful lens through which to view our twenty-first century attitudes toward cheese that we have inherited from our past, and our attitudes about the food system more broadly.
By examining the role of the cheesemaker throughout world history and by understanding a few basic principles of cheese science and technology, we can see how different cheeses have been shaped by and tailored to their surrounding environment, as well as defined by their social and cultural context.
"In this painstakingly researched yet passion-laced book, Paul Kindstedt shows us how cheese, from its rudimentary beginnings to today's manufacturing, is inextricably linked to culture and, no less, to our future. Cheese and Culture is essential reading for anyone who loves cheese and, equally, cares about the future of food itself." —Laura Werlin, author, Laura Werlin's Cheese Essentials
Wild Flavors: One Chef's Transformative Year Cooking from Eva's Farm

Curiosity sparked Emmons's initial venture down the Massachusetts coast to meet the celebrated farmer Eva Sommaripa, whose 200-plus uncommon herbs, greens, and edible "weeds" supply many top Northeastern chefs. Wild Flavors follows Didi through a year in Eva's Garden and offers both the warmth of their shared tales as well as the exquisite foods Didi came to develop using only the freshest of ingredients and wild edibles. Alongside the unique seasonal offerings, Didi provides profiles and tips on 46 uncommon plants, and shares Eva's wisdom about staying connected and maintaining a sane and healthy lifestyle in an increasingly hectic world. Wild Flavors is a finalists for this year's International Association of Culinary Professionals (IACP) cookbook awards in the Food Matters category! READ MORE…
"Didi Emmons, a local rock star of vegetarian cuisine, has written a lovely and unique cookbook, jam packed with yummy recipes for using everything a plant has to offer—the bulbs, stalks, leaves, flowers and fruits. This book fills an important niche in the cookbook world." —Melissa Kogut, executive director, Chefs Collaborative
The Art of Fermentation: An In-Depth Exploration of Essential Concepts and Processes from Around the World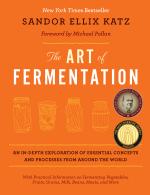 Coming Soon! Available for Pre-Order
The most comprehensive guide to do-it-yourself home fermentation ever published. Sandor Katz presents the concepts and processes behind fermentation in ways that are simple enough to guide a reader through their first experience making sauerkraut or yogurt, and in-depth enough to provide greater understanding and insight for experienced practitioners. With two color illustrations and extended resources, this book provides essential wisdom for cooks, homesteaders, farmers, gleaners, foragers, and food lovers of any kind.
Make sure to take a look at the amazing Foreword by Michael Pollan. Read it here.
"The Art of Fermentation is an extraordinary book, and an impressive work of passion and scholarship. It lays the foundation for fermenting all kinds of foods, and whoever reads it will be able to negotiate any recipe for ferments (and conquer any lingering nervousness about fermentation) with impunity. I am so impressed — and ready to begin! Thank you, Sandor Katz."—Deborah Madison, author of Vegetarian Cooking for Everyone and Local Flavors
Wild Fermentation: The Flavor, Nutrition, and Craft of Live Culture Foods
Bread. Cheese. Wine. Beer. Coffee. Chocolate. Most people consume fermented foods and drinks every day. For thousands of years, humans have enjoyed the distinctive flavors and nutrition resulting from the transformative power of microscopic bacteria and fungi.
Wild Fermentation is the first cookbook to widely explore the culinary magic of fermentation. This book takes readers on a whirlwind trip through the wide world of fermentation, providing readers with basic and delicious recipes—some familiar, others exotic—that are easy to make at home.
"This immensely valuable book belongs in the kitchen of anyone interested in health, nutrition and wild cultures. It is a feast of fact, fun, and creativity by a modern wise wo-MAN." —Susun Weed, author of Healing Wise
Libation, A Bitter Alchemy
The essays in Libation, a Bitter Alchemy, follow Deirdre Heekin as she unearths ruby-toned wines given up by the ghosts of long-gone wine makers from the red soil of Italy, her adoptive land; as she embarks on a complicated pilgrimage to the home of one of the world's oldest cocktails, Sazerac, in Katrina-soaked New Orleans; as she attempts to craft a brandy from inherited roses, the results of an old Sicilian recipe she found in a dusty bookstore in Naples. Musing on spirits from Campari to alkermes, Heekin's writing is as intoxicating, rich, and carefully crafted as the wines, liquors, and locales she loves.
"Deirdre Heekin sets a bountiful table for her readers. Libation is like the best of meals, in this case one with plates full of delicious memories and ruminations on passion and curiosity. And, finally and most importantly, there is a most satisfying dollop of love, a fine dessert which leaves us with an almost unimaginably sweet regard for life." —Neal I. Rosenthal, author of Reflections of a Wine Merchant
The Slow Food Dictionary to Italian Regional Cooking

The handy and practical Slow Food Dictionary of Regional Italian Cooking by the editors at Slow Food International tells you everything you ever wanted to know about Italian regional cooking as prepared in homes, osterias and restaurants. Packed with information about dishes and ingredients, tools and techniques, origins and trends, the book (which contains 40 color illustrations) is aimed primarily at food lovers but will also be of interest to anyone curious to find out more about Italy in general, its people, its language, its history and its culture.

Cheesemonger: A Life on the Wedge

Witty and irreverent, informative and provocative, Cheesemonger: A Life on the Wedge is the highly readable story of Gordon Edgar's unlikely career as a cheesemonger at San Francisco's worker—owned Rainbow Grocery Cooperative. A former punk-rock political activist, Edgar bluffed his way into his cheese job knowing almost nothing, but quickly discovered a whole world of amazing artisan cheeses. There he developed a deep understanding and respect for what goes into making great cheese.
"Smart, compassionate, and fun to read, Cheesemonger took me by surprise! Who would expect the memoir of a cheese man to be so fascinating, playful, and refreshing? It's great to hear a voice on food from the punk route, and Gordon Edgar brings a fresh and important perspective that we could all use for hand-made foods, those that aren't, and the people who buy them." —Deborah Madison, author of Local Flavors: Cooking and Eating from America's Farmers' Markets and What We Eat When We Eat Alone
Italian Cheese: A Guide to Its Discovery and Appreciation
Starting with illustrated descriptions of traditional and industrial cheesemaking, Slow Food's authors take us through the processes of buying, tasting, and storing cheeses. Dictionaries of tasting terms and the language of cheeses and cheesemaking provide essential preludes for the heart of this book—descriptions of Italy's farmhouse cheeses, traditionally made from cow's, ewe's, and goat's milk.
Organized by region and accompanied by elegant color photographs, each description covers how the cheese is made and matured, along with historical and geographic nuggets.
Written by people in love with farmhouse cheeses, and with everything small, local, slow, and traditional foods and food systems represent, this is an informative and hopeful book, celebrating a rich, rural European tradition. This book will make you start packing your bags for a cheese lover's tour of Italy.
Terra Madre: Forging a New Global Network of Sustainable Food Communities
More than twenty years ago, when Italian Carlo Petrini learned that McDonald's wanted to erect its golden arches next to the Spanish Steps in Rome, he developed an impassioned response: he helped found the Slow Food movement. Now, it's time to take the work of changing the way people grow, distribute, and consume food to a new level.
On a global scale, as Petrini tells us in Terra Madre, we aren't eating food. Food is eating us.
Large-scale industrial agriculture has run rampant and penetrated every corner of the world. The price of food is fixed by the rules of the market, which have neither concern for quality nor respect for producers. People have been forced into standardized, unnatural diets, and aggressive, chemical-based agriculture. Food has been stripped of its meaning, reduced to a mere commodity, and its mass production is contributing to injustice all over the world.
In Terra Madre, Petrini shows us a solution in the thousands of newly formed local alliances between food producers and food consumers. And he proposes expanding these alliances—connecting regional food communities around the world to promote good, clean, and fair food.
---