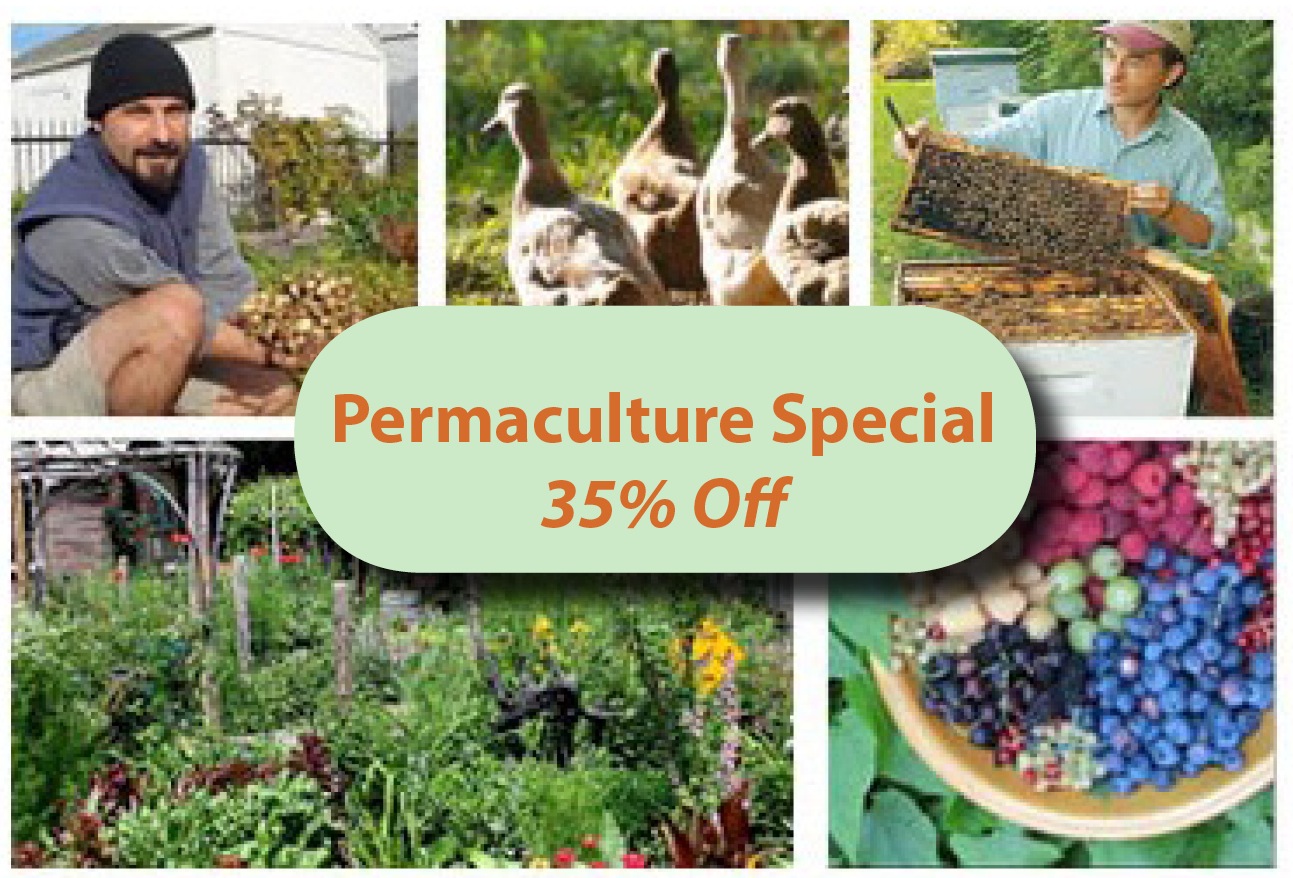 This is it. Your last chance to reap the savings on all of our permaculture books. But hurry – sale ends June 1st.
By adding a permaculture twist to your garden design you can spend less effort, improve the health of your soil, and enjoy a bountiful harvest.
Chelsea Green has been the go-to publisher for key home-scale permaculture books for thirty years. Learn more about this simple but revolutionary system with these groundbreaking books—on sale for a limited time.
Happy reading from your friends at Chelsea Green Publishing.
P.S. In case you missed it for the month of May we put our pioneering permaculture authors at your disposal. Take a peek at the last Q&A posts here: Are Swales Right for You; Michael Judd's Blueberry Soil Mix; and Eric Toensmeier on Aggressive Grass and Partial Shade.
---
Discount codes do not combine with other offers—our books
already on sale for example. Free shipping for orders $100 or
more is applied after the discount is applied. (U.S. Orders Only)
Permaculture Sale: until June 1st
| | | | | |
| --- | --- | --- | --- | --- |
| | | | | |
| | | | | |
| --- | --- | --- | --- | --- |
| | | | | |
| | | | | | | |
| --- | --- | --- | --- | --- | --- | --- |
| | | | | | | |
| | | | | | | |
| --- | --- | --- | --- | --- | --- | --- |
| | | | | | | |
| | | | | | | |
| --- | --- | --- | --- | --- | --- | --- |
| | | | | | | |
| | | | | | | |
| --- | --- | --- | --- | --- | --- | --- |
| | | | | | | |
| | | | | | | |
| --- | --- | --- | --- | --- | --- | --- |
| | | | | | | |
| | | | | | | |
| --- | --- | --- | --- | --- | --- | --- |
| | | | | | | |
| | | | | | | |
| --- | --- | --- | --- | --- | --- | --- |
| | | | | | | |
| | | | | | | |
| --- | --- | --- | --- | --- | --- | --- |
| | | | | | | |
---
Discount codes do not combine with other offers—our books
already on sale for example. Free shipping for orders $100 or
more is applied after the discount is applied. (U.S. Orders Only)
---