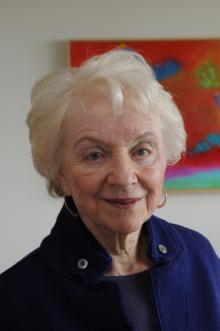 Award-winning journalist Joyce Marcel recently sat down to talk to Madeleine Kunin,Vermont's first woman governor and author of The New Feminist Agenda: Defining the Next Revolution for Women, Work, and Family, which has garnered rave reviews for its blend of pragmatism and passion.
In her cultured, polite and graceful way, Madeleine M. Kunin is angry.
And when Kunin is angry, it pays to pay attention. After all, she's got  impressive social change credentials.
Kunin was the first female governor of Vermont (1985-1991). And she was an activist governor, at that. She was the first Jewish governor of Vermont, for that matter. The first Jewish woman ever elected governor of a U.S. state. The first woman in U.S. history to be elected governor three times. The fourth woman to be elected governor in her own right (instead of inheriting the position from a deceased husband.)
After she left office, she founded the Institute for Sustainable Communities, which for more than 20 years has done successful community-building projects in 24 countries, including the U.S.
She also joined the Clinton administration, first to research vice-presidential candidates, then as Deputy Secretary of Education. Later, Clinton appointed her ambassador to Switzerland, where she prodded the Swiss banking establishment into confronting its financial actions during and after World War II. She is the author of three books — a new one, "The New Feminist Agenda: Defining the Next Revolution for Women, Work and Family," comes out this month. She is the mother of four children; the grandmother of five. Many talented women look to her as a mentor. She is currently the Marsh Scholar and Professor at Large at the University of Vermont. Although Kunin is an accomplished politician, author, teacher, mentor and public speaker — and a master of controlled emotion — when she entered public life she wasn't even certain that she would like it — or be any good at it. "But I found it a fascinating world," Kunin told me. "All different points of view; it was stimulating. You have to be a quick study about a whole bunch of new issues. And I found the interaction with constituents interesting and fun. You may skim the surface, but the surface is huge. Instead of living a life in your own little bubble, you break out of it and see this enormous landscape of life." Kunin has won elections and lost elections. "Losing isn't easy, and sometimes I took it personally," she said. "But you have to move on. Politics has its ups and downs. When I lost my first campaign for governor, I was devastated, even though I knew it was a tough race. You get caught by the fever. It's an adrenaline rush in politics that can be both wonderful and miserable, depending on where you are. But I have no regrets. The risk was worth taking." "She is a gutsy, visionary politician," said Jonathan Lash, who served as Kunin's secretary of natural resources and is now president of  Hampshire College in Amherst, Mass. "I loved working for her. It was a blast. She's somebody who makes 'politician' not a dirty word." To many people around the world, Kunin has become an icon of leadership. "Madeleine is a remarkably compassionate and visionary leader," said George Hamilton, the president of ISC. "She has had amazing accomplishments, from writing books to founding ISC to being a role model to women around the world. Most compelling is the way she's inspired women by example and by writing honestly about what it means to be a leader. I travel with her a lot. I see the response she gets. It's really very moving." One of the young women Kunin has mentored is Vermont Representative Kesha Ram (D-Chittenden 3-4), who was the student body president of the University of Vermont and, at 21, ran for state office and won. "Madeleine Kunin was very inspirational," Ram said. "When I first met her, she gave me an hour of her time, and I left feeling 'Wow! I would love to be involved in politics in a state where a former governor is so warm and accessible.' She was a reminder that you don't have to leave who you are when you enter the halls of power. Since then she's been an incredible mentor and inspiration. What also means a lot to me is that she's able to inspire women of all ages and backgrounds. She's someone I would like to be. She embodies strength and courage. She speaks her mind and is eloquent, but she is also humble." At 78, I found Kunin to be both feminine and fragile. When we met to talk at the Burlington home she shares with her second husband, retired Dartmouth professor John W. Hennessey, Jr. she was charming and lovely and, as always, elegantly dressed and coiffed. (Kunin  dedicated her new book to Hennessey: "For John, my first reader, editor, constant support and also — a feminist.") The couple's living room has floor-to-ceiling glass walls overlooking Lake Champlain. A bright red abstract by Vermont artist Emily Mason graces one wall opposite a purple forest painted by Mason's husband, Wolf Kahn. The two paintings strike a nice ironic balance. The house is filled with photos of Kunin's four children, her five grandchildren, her husband's children and grandchildren, and portraits of her with Bill and Hillary Clinton, Michelle Obama, Geraldine Ferraro and other notables. When talking about herself, Kunin was thoughtful, patient, honest about herself and diplomatic about others. She has a good sense of humor and isn't afraid to giggle when something strikes her as funny. She is deeply intelligent. Her focus is laser sharp. She gives a great interview. "She's the complete role model," said Jan Blittersdorf, the president and CEO of NRG Systems. "She always looks fabulous and its never conservative or like 'a woman of a certain age.' She's regal. I think she's a fine example of a successful woman. I guess I wonder who's going to follow her footsteps, politically. What's going to happen coming up? And is anybody going to follow her lead of supporting women in political positions? A man or a woman?" Kunin is far from ready to retire to a rocking chair. What is making her angry now is the fact that decades after the second wave of the women's movement in the Sixties and Seventies —the first wave gave women the vote — gender equality has still not been achieved in the United States. And even worse, gains made by women in multiple areas of civic society are being threatened or taken away vote by vote, state by state. It's 2012, Kunin said. Things should be different. "I'm angry that a golf course in Georgia doesn't allow women," Kunin told me. "How can that be? I thought we would have settled these issues." In the introduction to her new book she writes that by this time: "I did not expect that women would still make 77 cents for every dollar that men earn. I expected that one-third to one-half of our Congress, governors, state legislatures and mayors would be female. I did not expect that in 2010 that number would be 17 percent in the Congress, and the United States would be tied at 69th place in the percentage of women in parliaments, out of 178 countries. I expected that one-third to one-half of corporate board members would be women. I did not expect to see that proportion stuck at 17 percent. I expected that a high percentage of the Fortune 500 companies would be led by women. I did not expect that figure to be 3 percent.  I expected that misogyny, rape and other acts of violence against women would be widely condemned and sharply reduced…I expected that by 2011 grandmothers like myself would be able to tell their grandchildren of how life used to be 'long ago.'" Does she think the Republican right wing has declared war on women? "It sure sounds that way," she told me. "It's contraception, it's choice, it's violence against women, it's cutting social programs, cutting Pell Grants. But I'm sure they don't see it that way. There's a real disconnect — they just look at issues from the male perspective. We have a huge divide." Rick Santorum and Mitt Romney can have many children because they can support them, she pointed out. What about single mothers who can't support even their smaller families? "Take the whole issue of contraception," Kunin said. "I don't know if I want to say it, but they should remember that Jesus was an only child. Almost every woman and family throughout history has practiced contraception. It didn't start yesterday. The ability to control when and whether you want to bear children is the most essential thing for family life, not just for women. And making it possible for lower-income women have insurance coverage for that is just common sense, because it also dramatically reduces the number of abortions." Kunin is anything but shrill about a current political climate she characterizes as "nasty." "I guess I'm still polite in my anger," she said. "That's just my nature."
Keep reading…
---