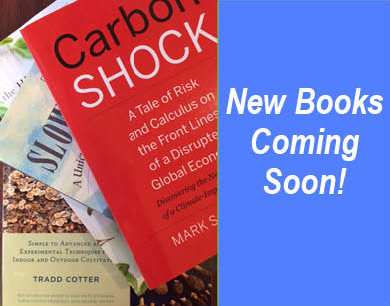 Our Fall books have a little something for everyone: Readers will learn about the present-day effects of carbon on the price of everyday goods and its impact on the global economy, biodynamic wine growing and gardening, mushroom cultivation and cutting-edge mycoremediation, sustainable cattle ranching, farming in the woods, learning to slow life's pace to unicycle speed, the 13 essential weeds that will help aid in human survival, and much more.
Our Fall crop of books that will begin appearing on shelves by September has something
for every reader who is interested in pursuing, maintaining, or advancing a simpler, more sustainable lifestyle.
First up, go on an adventure with homesteader Mark Schimmoeller as he journeys from North Carolina to Arizona on a unicycle and reflects on his simple off-the-grid lifestyle in Kentucky and his efforts to save an old growth forest. Then, follow journalist Mark Schapiro on his hunt for the true price of carbon from "greening" cities like Pittsburgh to the jungles of the Amazon. Or, get ready to dive into the fascinating world of mushrooms with mycologist Tradd Cotter as he explores the best organic cultivation practices and shares results from his groundbreaking research. Read more about these new books and the rest of the exciting Fall list, below. If you pre-order now, we'll ship the book to you as soon as it arrives in our warehouse, which means you could get it before anyone else. And, remember, we offer free shipping on all domestic orders of $100 or more.
To see a list of currently discounted books, check out our sale on recent releases — 35% off until July 3.
The Fall 2014 book list is here!
| | |
| --- | --- |
| | Slowspoke: A Unicyclist's Guide to America by Mark Schimmoeller Written with poise and humor, Slowspoke is about more than a cross-country trip on a unicycle; it's a meditation on a way of life that Americans find increasingly rare: one that practices a playful, recalcitrant slowness. Schimmoeller intersperses recollections of his journey with vignettes of his present-day, off-the-grid homesteading with his wife in Kentucky and their efforts to save an old growth forest. Available in September (Pre-orders received in late July) |
| | Carbon Shock: A Tale of Risk and Calculus on the Front Lines of a Disrupted Global Economy by Mark Schapiro Take a journey to the front lines of a changing world, where the same chaotic forces reshaping our weather patterns are also transforming the global economy, playing havoc with corporate calculations, shifting economic and political power, and upending our understanding of the real risks, costs, and possibilities of what lies ahead. Available in September (Pre-orders received in August) |
| | Organic Mushroom Farming and Mycoremediation: Simple to Advanced and Experimental Techniques to Indoor and Outdoor Cultivation by Tradd Cotter Cotter offers readers an in-depth exploration of best organic mushroom cultivation practices, shares the results of his groundbreaking research, and offers creative ways to apply cultivation skills—whether the goal is to help a community clean up industrial pollution or simply to settle down at the end of the day with a cold Reishi-infused homebrew ale. Available in September (Pre-orders received in August) |
| | The Heal Your Gut Cookbook: Nutrient-Dense Recipes for Intestinal Health Using the GAPS Diet by Hilary Boynton and Mary Brackett The Heal Your Gut Cookbook is a visually stunning cookbook created by GAPS Diet experts Hilary Boynton and Mary G. Brackett. The book gives readers more than 200 straightforward, nutrient-dense, and appealing recipes designed to heal your gut and thereby manage the illnesses that stem from it. Available in September. |
| | Farming the Woods: An Integrated Permaculture Approach to Growing Food and Medicinals in Temperate Forests by Ken Mudge and Steve GabrielFarming the Woods introduces a remarkably different perspective: that a healthy forest can be maintained while growing a wide range of food, medicinal, and other non-timber products such as ginseng, mushrooms, and ramps. This book demonstrates how forest farming is an invaluable practice to integrate into any farm or homestead. Available in October (Pre-orders received in September) |
| | The Wild Wisdom of Weeds: 13 Essential Plants for Human Survival by Katrina Blair The Wild Wisdom of Weeds is the only book on foraging and edible weeds to focus on the thirteen weeds found all over the world, each of which represents a complete food source and extensive medical pharmacy and first-aid kit. More than just a field guide to wild edibles, it is a global plan for human survival. Available in November (Pre-orders received in October) |
| | Angels By the River: A Memoir of Sorts by James Gustave Speth In Angels by the River, James Gustave "Gus" Speth recounts his unlikely path from a southern boyhood through his years as one of the nation's most influential mainstream environmentalists and eventually to the system­-changing activism that shapes his current work. Available in November (Pre-orders received in October) |
| | Defending Beef: The Case for Sustainable Meat Production by Nicolette Hahn Niman Environmental lawyer turned rancher Nicolette Hahn Niman argues that cattle are not inherently bad for the Earth. In fact, with proper oversight livestock can play an essential role in maintaining grassland ecosystems. Grounded in empirical scientific data, this book builds the most comprehensive and convincing argument to date that cattle could actually serve as the Earth's greatest environmental benefactors by helping to build carbon­ sequestering soils and prevent desertification. Available in November (Pre-orders received in October) |
| | An Unlikely Vineyard: The Education of a Farmer and Her Quest for Terrior by Deirdre Heekin On their tiny, eight-­acre hillside farm in south-­central Vermont, Deidre Heekin and her husband set out to create, or rediscover, a sense of place, and to grow food naturally using the philosophy and techniques of organics, permaculture, and biodynamic farming. An Unlikely Vineyard tells the story of their farm and its evolution, from overgrown fields to a fertile, productive, and beautiful landscape that melds with its natural environment. Available in November (Pre-orders received in October) |
| | The Tao of Vegetable Gardening: Cultivating Tomatoes, Greens, Peas, Beans, Squash, Joy, and Serenity by Carol Deppe The Tao of Vegetable Gardening explores the practical methods as well as the deeper essence of gardening. In her latest book, Deppe focuses on some of the most popular home garden vegetables—tomatoes, green beans, peas, and leafy greens—and through them illustrates the key principles and practices that gardeners need to know to successfully plant and grow just about any food crop. Available in November (Pre-orders received in late October) |
| | Growing Hybrid Hazelnuts: The New Resilient Crop for a Changing Climate by Philip Rutter, Dr. Susan Wiegrefe, and Brandon Rutter-Daywater This book is the first comprehensive guide for farmers interested in how to get started growing hybrid hazelnuts, a crop designed from the very outset to address a host of problems with conventional modern agriculture. The first and only guide of its kind, this book will appeal to small-­scale and commercial farmers, both those already familiar with concepts of perennial agriculture and those interested in converting from conventional practices. Available in December (Pre-orders received in late November) |
---